Time for a heated debate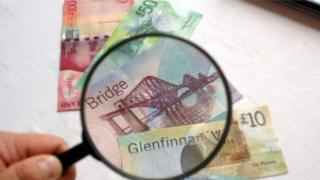 The story is a familiar one, but the tension is increasing.
A tightening budget on day-to-day public spending brings many more challenges this year than last, but the long-term pressures cannot be handled by simply applying the same squeeze.
We're looking at a different winter debate on Budgets this year. It starts with a much earlier Westminster budget than before, on November 22. Derek Mackay follows before Christmas with the Scottish budget.
Then Chancellor Philip Hammond and the Scots finance secretary have to cobble together an alliance of enough votes.
The Conservative at Westminster has a notional majority, thanks to that colossal bung to Northern Ireland and the Democratic Unionists. (A similar spending boost throughout the UK would, it is claimed, cost £22bn.)
But that's not to say his backbenchers are a pushover. His party is nervy and fractious about Brexit, and his Cabinet battles are antagonising Leave hardliners.
He has already softened the line on public sector pay, and there are signals of lower student fees in England. It doesn't feel like a good time for radical reform, including Britain's over-complex tax system.
Plans to devolve English local government funding have been shelved for now, as too difficult, while attention is focussed elsewhere.
Heroic growth
The questions for Mr Mackay at Holyrood are no less difficult. He needs to win over at least some opposition votes. He too faces unprecedented uncertainty around Brexit. Growth may have picked up early this year, but it's been much more sluggish for the previous two years.
He is no longer in command of his own revenue forecasts, so can't massage figures with heroic assumptions about growth and revenue compliance. That role is now with the Scottish Fiscal Commission, and with not much to go on, and vast gaps in data, it's expected to take a conservative approach - with a small 'c', that is.
He faces a 1.5% squeeze this year in his real terms revenue budget, and a further 1.3% the next year. And he doesn't have Mr Hammond's UK credit card to flex.
He now has most income tax powers, and the Labour opposition bearing down on him with its enthusiasm for hitting higher earners. But he also has a party on his side that likes to portray itself as both progressive and business-friendly, so cautious and incremental about divergence from the UK line on tax.
And Labour isn't paying much attention to the evidence that hitting higher earners could backfire, and actually leave less revenue. Its political messaging is enough to make a point, for now.
So today's report from the Fraser of Allander Institute returns to the warning that protection of some items means more pressure on others. Health gets protected, with £500m during this parliament. There's protection for police spending, after the debacles affecting Police Scotland. Childcare gets a lot more. So do schools, with a fund lagging schools and disadvantaged pupils to help close attainment gaps.
Once he's protected all that, Mr Mackay has less than half the rest of the Budget to take the rest of the squeeze. Over the course of this Holyrood Parliament, unprotected spending gets between 9 and 14% real terms cuts. Over this decade, non-health spending is facing a real terms squeeze of nearly 20%.
And according to the Allander's director Graeme Roy, the area to watch is local government. Its schools spend may be better protected than most, though ministers are keen to shift power away from councils on that.
Other areas, from local roads to social work, rubbish collections, libraries and leisure, could bear the brunt. And with last May's local elections behind them, this could be a more bruising encounter between central and local government.
The point is that things can't go on as before. Council tax is not delivering meaningful autonomy.
And this winter's choices will be followed by lots more difficult choices to come.
The big choices, boiled down, are what government can do with resources it has, and what it should do.
Charge users?
Should it retain the high expectations of the National Health Service, or lower expectations? If it's an obvious yes, for political reasons, then what can be done to meet the 3% per year growth in demand resulting from a growing population and longer lives, heading into next decade, when that extra element will be 2% per year, in real terms?
That doesn't take account of the rising cost of technology and expectations that expensive drugs and procedures will be provided to patients for free.
One answer is to rearrange budgets to make better use of resources. So the NHS and social care budgets are being merged.
Some services can be cut, though rarely without protest.
User fees could be increased. What, over time, will happen to vehicle and fuel duty if there's a rapid shift to electric cars? Could it be time to look again at road pricing, based on time, location and miles travelled?
The old debate about universal provision raises its head again. Should means testing be applied to student tuition fees, prescription charges and some welfare payments. It's reckoned, for instance, that of winter fuel payments to those over pension age (a Westminster policy), 40% goes to people in the top half of income.
A long way from the next elections for both Holyrood and Westminster, but facing a lot of other uncertainties around economic growth, taxation and Brexit's effects, this might be a good time to get this debate heated up.
The Fraser of Allander analysis is an important challenge. It would be a brave minister that picks up that challenge, but a wise one.