Status quo 'not an option' for sustainable Scottish budget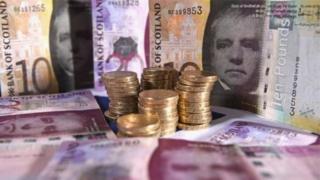 Economic experts have warned that "continuing as before is not an option" if Scotland's budget is to remain sustainable in the long term.
The Fraser of Allander Institute said Scotland faces "considerable public spending restraint" in coming years.
The think tank's annual budget preview said an "open and transparent" debate about the sustainability of public finances was now "essential".
Ministers have said they have an "open mind" about tax rises in the budget.
Finance Secretary Derek Mackay is to set out his tax and spending plans in December, after what he terms "an open and constructive debate about how we ensure the sustainability of our public services while giving certainty to taxpayers".
MSPs have already backed the principle of increasing income tax in order to fund investment in public services, although SNP members abstained from that vote.
'Fragile economy'
The Fraser of Allander Institute (FAI) report warned of pressures on public finances over the coming years, pointing to "a combination of ongoing fiscal consolidation at the UK level, a relatively fragile economic environment and major policy commitments to be paid for".
The Strathclyde University-based think tank said changes to the scale of public spending, how public services are delivered and the way in which devolved revenues are raised are all likely to be needed.
The report added: "Continuing as before is not an option if Scotland's devolved budget is to be sustainable in the long term".
The report echoes previous warnings the institute has issued in recent months about Scotland's economic prospects amid uncertainty over Brexit.
It notes that after "a relatively good year in 2017-18", with the resource block grant increasing in real terms, the next few financial years "look like being challenging for the Scottish budget".
The FAI expect the total Scottish resource budget, sourced from the block grant and tax revenues, to fall by anything between 1.2% and 3.8% in real terms between 2016-17 and 2020-21.
It said that due to existing commitments from ministers to either boost or protect spending on health, the police and educational attainment funds, there would need to be "tough settlements" for some other public services.
'Significant restraints'
Given existing commitments to priorities like free university tuition and personal care, and the plan to scrap the 1% cap on public sector pay rises, the FAI highlighted the non-education elements of local government budgets as the most likely to be at risk from further cuts.
Looking to the longer term, the report notes that Scotland's ageing population and rising health costs will mean even more money will be needed for the NHS "just to stand still" - meaning that "further spending reductions will be required elsewhere, or new sources of revenue found".
The report concludes that "a strategic look at the long-term financial sustainability of Scotland's public finances is therefore required".
However, the institute warned that there are "significant restraints" on revenue-raising via taxation, saying Holyrood "has only a limited number of pieces of the jigsaw" given its tax powers are "intricately interwoven" with those set at Westminster.
It highlighted options focused on spending, including reforms to the way in which public services are delivered, a more targeted approach to the allocation of "scarce public sector resources", and "a reappraisal of the services provided by the state".
Scottish ministers are drawing together a discussion paper focused on the use of Holyrood's tax powers ahead of the budget negotiations with other parties.
In her programme for government speech, First Minister Nicola Sturgeon said the time was right "to open a discussion about how responsible and progressive use of our tax powers could help build the kind of country we want to be", highlighting "the highest quality public services" as a key goal.
Her party has since avoided being tied down to a position on the use of tax to fund public services, with SNP members abstaining from a vote in the Holyrood chamber so as not to "prejudge" the debate prior to the budget talks.
During a visit to Scotland on Monday, Chancellor Philip Hammond sounded a note of caution about tax rises north of the border.
He said it was "perfectly legitimate" for Holyrood to debate tax, but added: "I think one should be cautious about increasing pressure on household incomes via taxation at a time like this."
Devolved taxes
Meanwhile, another report has shown that taxes from property sales in Scotland in 2016-17 raised almost £55m less than was initially forecast.
Tax collectors at Revenue Scotland brought in almost £483.6m from the land and buildings transaction tax (LBTT) over the year - but the government's budget for the year forecast £538m.
Overall, ministers had anticipated collecting just over £671m from the two devolved taxes - LBTT and Scottish landfill tax. However, figures in Revenue Scotland's annual report showed just over £633m was collected in 2016-17.
Mr Mackay, who has repeatedly defended the rollout of LBTT, said that Revenue Scotland "has continued to operate effectively and efficiently, with operating costs lower than last year".
He said revenue from the devolved taxes had "helped to fund our vital public services and support our ambition to create a more successful country, with opportunity to all to flourish through increased sustainable tax growth".