Sturgeon's mid-term reboot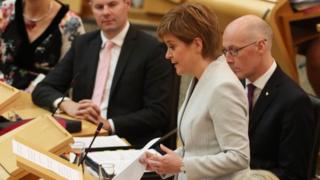 Things haven't gone as anyone expected for the past few years. For Nicola Sturgeon, a rogue Westminster election knocked the momentum out of her party's dominance and the independence movement.
So 16 months out from her re-election to lead a minority administration, the Programme for Government has the look of a reboot. She's switched off the administration, and switched it back on again, and come up with something that reads like an election manifesto.
It's pleased an impressively wide range of pressure groups: those who campaign for the planet, disabled people, against poverty, on race and gender, the business lobby, public sector unions and public transport.
And this is a manifesto that is willing to make some enemies and risk criticism; taking on the lock-em-up brigade on prisons: petrolheads and their diesel cousins: the obese, or at least those who sell fatty foods to them: and local councillors, who stand to lose powers to headteachers and local communities.
Some of the programme remains vague, and with good reason. The talk of the need for the NHS to evolve is potentially significant as a pointer to difficult decisions ahead.
Likewise, the promised discussion paper on use of tax powers. That could be seen as a precursor to tax increases, to meet the expectations of better funded public services and retained universal provision of benefits. Or it could be a means to hold out against opposition pressure for higher tax.
Such difficult decisions are often put off, kicked far into the long grass. But they don't go away.
So it is with the long-postponed decision on fracking. The evidence is to be made public in the "coming weeks". It surely can't please everyone.
And so it is with business rates. There's a commitment to introduce the easy bits - three-yearly reviews and childcare centres exempted. But ending exemptions for private schools, and some university activities? And a fundamental review of whether the flagship Small Business Bonus Scheme is working and fair? That has to wait.
Across the aisle
So this reboot recognises that quite a lot can be achieved even by a minority government. When the word 'independence' is parked, it looks much easier to do deals, as they say in Washington, "across the aisle".
It also recognises that Scotland's economy requires a new narrative from the government. Gone are the bold claims of "reindustrialising" Scotland, with a golden age of building big kit for renewables. The kit's being installed, but without much Scots manufacturing.
This programme for government is down to harder, longer-term aims of tackling weaknesses as well as building on strengths. It wants to build up research and development by Scotland's private sector, with at least some government support.
In comes a Scottish National Investment Bank - another, bigger attempt to use state funds to back firms in strong sectors, and to plug gaps in the financing pipeline.
The intention is for Scots to be more the inventor and creators of future technology, rather than merely the well-educated consumers.
Left or growth?
Nicola Sturgeon can get plenty buy-in from the private sector on much of what she's doing.
But business leaders are watching closely to see how much her simultaneous appeal to the left - "commissioning research on a basic income scheme", aiming to take over the ScotRail franchise, making big promises on welfare and public services, opening the door to tax increases, raising public sector pay and minimum wage expectations while tackling inequalities - are going to constrain economic growth rather than encourage it. Both might be nice, but that's very hard to achieve.
The proof will be in how much this bold mid-term manifesto can become reality, or which bits do so.
Take the plan to set up a strategic board to oversee the enterprise agencies and university funding council. Those who will sit on it are saying: yes, this might help, but how? What's the mechanism for using this to boost growth?
A near-identical plan was also announced in 2008. The same forum was to be chaired by the finance and enterprise secretary, John Swinney. But by last year, Audit Scotland could find no record of its meetings and no evidence of anything it had achieved.
Paul Johnson, director of the Institute for Fiscal Studies, wrote this week about how easy it is for academics, think tank directors and journalists to make calls for tough decisions. Making them is much more difficult, he argued, reflecting trade-offs between competing demands.
He was writing in the context of a Westminster government which is consumed by Brexit, and appears unrealistic and incoherent about the challenges it faces.
Meanwhile, the headlines are full of Donald Trump's chaotic unravelling of government.
In that context - whatever you think of its broad reach and individual policies - the Scottish programme for government looks more like a model of maturity, and a belief in the ability of government to do good.