Programme for government: Electric cars, bottle returns and low emission zones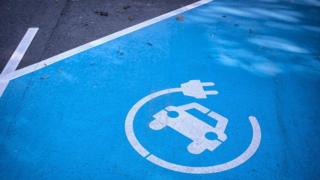 Environment is one of the Scottish government's buzz words and it certainly features heavily in this year's programme for government.
The most headline grabbing element is the commitment to phase out new petrol and diesel cars by 2032 - that's eight years ahead of the UK government's pledge.
It might seem an alien concept to us now with only a tiny proportion of drivers behind the wheel of an electric vehicle (EV).
But car manufacturers know the writing is on the wall and have already been investing heavily in EVs.
Westminster does not intend to introduce legislation banning petrol and diesel cars but instead use incentives to coax the car industry into the change.
Critics have already said that the transition will happen anyway without much government intervention.
But there needs to be an infrastructure network alongside it so potential consumers are not put off by range-anxiety; the fear of running out of battery life.
That's why Nicola Sturgeon has promised a significant expansion in the charging network including an Electric Highway along the A9, Scotland's longest road.
Environmental groups have described this as a "green" programme for government with a range of other measures announced.
A deposit-return scheme, previewed by BBC Scotland, will be created for drinks cans and bottles.
Scotland's four biggest cities will have Low Emissions Zones, banning the most polluting vehicles, by 2020. The Scottish government is already committed to one LEZ by the end of next year.
And there was an announcement for money to try and revive Carbon Capture and Storage. About £100,000 will fund a feasibility study into a small scale project at St Fergus in the North East.
Ministers have been keen on CCS because gas fuelled power stations provide high levels of flexibility and using this technology decarbonises them without having to shut them down.
It is not fully welcomed by green groups because it still requires fossil fuels but there is a general recognition that it is a step in the right direction.
Few people can quibble with these environmentally-friendly proposals, which makes them a relatively easy hit. But they will still require time and investment.
The Scottish government's long-stated ambition is to be a global leader in tackling climate change and these measures push them in the right direction.