New curriculum could be 'disastrous', says education expert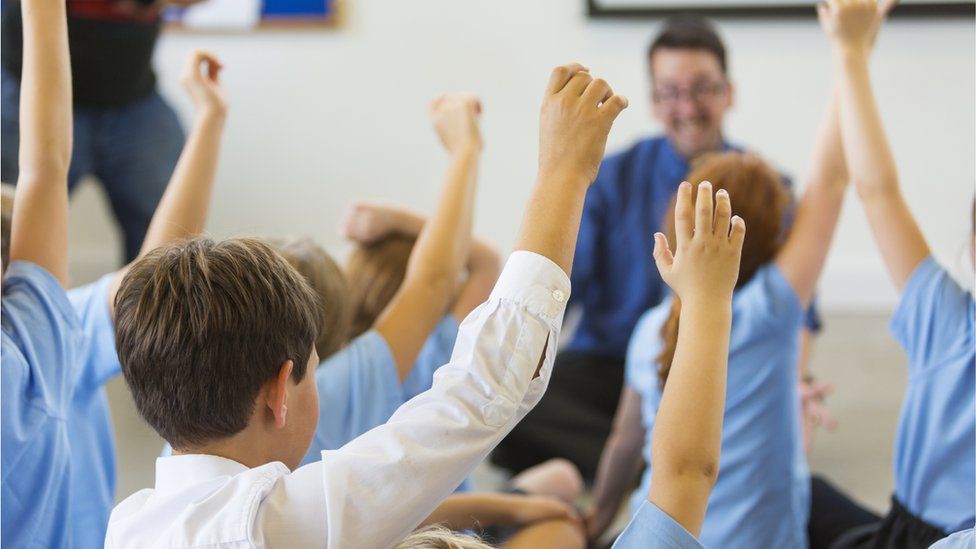 One of Scotland's leading experts on education has warned that the Curriculum for Excellence (CfE) could be "disastrous" for school pupils.
Prof Lindsay Paterson, from the University of Edinburgh, said the programme lacked "academic rigour" and was "dumbing down" education.
He also said the programme, introduced in Scotland's schools in 2010, could widen the attainment gap, not close it.
The Scottish government insisted CfE was "strong, bold and effective".
Curriculum for Excellence was introduced to give teachers more flexibility over what and how they teach.
It aims to give learners a "holistic understanding" of what it means to be a young Scot and sets out to equip pupils with four key "capacities", namely to be - successful learners, confident individuals, responsible citizens, and effective contributors.
However, Prof Paterson told the BBC Radio's Sunday edition of Good Morning Scotland: "Curriculum for Excellence could be disastrous. And there's two main reasons for that: One is the absence of academic rigour - it really is a dumbing down of the curriculum.
"It no longer is the systematic and rigorous and structured way it used to be in the past.
"But the major worry perhaps is even deeper than that, which is that it will widen inequality.
"The old academic knowledge - the best that has been thought and said by human beings - will still be given to the children of the well-educated middle class by their parents.
"But the other children - who can't get it from their parents - are completely dependent on schools for it.
"And if they're not getting the best that has been thought and said from schools, they will get it from nowhere, and that will make inequality of learning and of culture wider than it has ever been."
Prof Paterson said that while politicians at Holyrood were listening and were "quite open to criticism", the concerns of academics about the curriculum were being stifled by a fear of challenging the pervading "left-of-centre" political consensus.
He also said a fear of criticising government policy stemmed from a perceived risk to future research contracts.
The professor said: "One of the reasons is a reluctance to challenge the left-of-centre political consensus in Scotland. We have a very uniform political culture."
He added: "Some people have said that by asking difficult questions they risk their research grants.
"These people have been very distinguished scientists, studying highly contentious matters like genetic modification or fracking."
Analysis by BBC Scotland's education correspondent Jamie McIvor
Is Curriculum for Excellence leading to higher standards? Or is education dumbing down?
A report by the OECD highlighted the potential in Curriculum for Excellence but some with a more traditional view of education have always been sceptical.
In broad terms it can be said that there has been a shift in focus away from the acquisition of knowledge for its own sake and a greater emphasis is now placed on how to use or apply knowledge.
Some would say there is no point merely filling youngsters heads with facts that are unlikely to be of any use unless they were contestants on quiz shows - understanding, interpretation and using knowledge in a variety of situations are much more important.
One concern which is sometimes expressed privately is that while the education system may now be much more inclusive than it once was and able to provide something of value to youngsters of average ability, the most academically able are not always being stretched as fully as they might be.
Fundamental criticism of Curriculum for Excellence is unusual. The groundwork started before the SNP came to power in 2007 and there was broad support for its aims across the political spectrum.
Criticism or concern within the profession has often been around the details of its implementation - claims of workload and bureaucracy around the new qualifications - rather than about a fundamental sense that C for E itself was wrong.
But what does the data tell us?
On the one hand, the government's studies on literacy and numeracy do suggest that things are not getting any better and may in some ways be getting worse. Education secretary John Swinney has stressed the importance of these basics and wants to see improvements. New guidance has been issued stressing the primacy of the basics.
Last year's international PISA rankings caused concern placing Scotland as "average" in all three categories for the first time ever.
But there are positive achievements too.
More youngsters are gaining at least one Higher. The number of Scots getting to university is around a record level.
It's important to stress that efforts to get more young people from disadvantaged backgrounds to university are distinct from C for E.
Relatively few young people are not in employment, education or training and if they are not there is often a complex back story.
Perhaps Professor Paterson's comments also touch on an important philosophical point for wider discussion.
Is the point of an education a simple "outcome" such as a job?
Or is a well-stocked mind a good thing for its own sake?
Deputy First Minister and Education Secretary John Swinney rejected the criticism and insisted the Curriculum for Excellence had been arrived at after a "long process of dialogue" within Scottish education and that it had been endorsed by international observers.
He said: "There is always a vigorous debate in education, but what I'm absolutely confident about is that Scotland's curriculum is the right curriculum for our young people.
"It addresses all of their needs and equips them with the skills that they require for the challenges of the future and more importantly Scotland's curriculum has been validated as a strong, a bold and an effective curriculum by the OECD and by our international council of education advisers."
Mr Swinney added: "When I go round the schools of Scotland I see teachers highly motivated by Scotland's curriculum because what our curriculum has done is allowed the teachers of Scotland to deploy their professional skills.
"The people who are benefiting from their professional skills are the young people of Scotland who just last month secured over 150,000 passes at higher level, demonstrating the academic rigour of our qualifications and our curriculum."