Ruth Davidson defends MP over Gypsy Traveller comments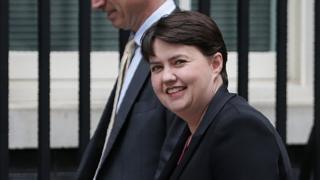 Ruth Davidson has said Moray's Conservative MP was reflecting local concerns when he called for tougher enforcement against Gypsy Travellers.
Douglas Ross faced criticism for the remark, made in response to a question about what his number one priority would be if he was prime minister.
The Scottish Conservative leader said there had been "significant issues" in Mr Ross' constituency.
However, Mr Ross has since said he regrets his answer.
He said that given the nature of the "quick-fire" online interview with Core Politics, he did not have time to provide context when answering the question.
But speaking to the BBC, Mr Ross later said of Gypsy Travellers: "They are an ethnic minority, therefore when they turn up on land that is not theirs and established illegal and unauthorised traveller encampments they are protected, yet the settled community, if they were to do the same, are not protected."
Speaking on BBC Radio's Good Morning Scotland programme on Friday, Ruth Davidson said: "What he was saying - and he clarified immediately because he was in a quick-fire situation, he wasn't able to supplement what he was saying - he as a nine-year councillor, before he became an MSP, before he became an MP, he had had significant issues in his local area of illegal encampments."
'Illegal encampments'
Ms Davidson added: "I know that Douglas Ross, as a hard-working councillor in Moray, an MSP and an MP, has worked really hard with his constituents about an issue that is particular to his area regarding illegal encampments.
"This is a response to a particular local issue. This is him acting as a local representative, reflecting some of the concerns of his local community, which have been acute in Moray."
The Conservative leader also addressed criticism of her decision to allow two councillors who posted offensive comments on Twitter in the past to be reinstated.
Stirling councillor Alastair Majury posted anti-Catholic comments while his colleague Robert Davies made racist jokes online.
Ms Davidson said: "They have apologised. They have apologised to anybody that was offended by the comments that they made."
She said the two councillors had been sent for diversity training because she wanted to change their behaviour.
Ms Davidson also said the councillors were in talks with the Show Racism The Red Card charity - before the Conservatives clarified after the interview that she had meant to say the Nil By Mouth anti-sectarian charity.
The Scottish Conservative leader also used the interview to reiterate her support for the prime minister amid reports that Theresa May plans to lead the party in a 2022 general election, despite losing the Tory majority after the snap election in June.
Ms Davidson dismissed criticism of Mrs May, insisting she had her "full support".
She said: "I'm not sure who has been criticising Theresa May for wanting to carry on. Of course we want our prime minister to stay in post and she's got my full support."
'Shameful move'
SNP MSP Christina McKelvie said it was clear that comments about Gypsy Travellers made by Mr Ross "weren't just a slip of the tongue".
She added: "Ruth Davidson needs to get a grip and rein in the intolerance and prejudice which is rife in the Scottish Tory ranks - and which she has done nothing to discourage by her shameful move to readmit the two councillors.
"It is sheer hypocrisy for the Scots Tory leader to denounce racism on Twitter while simultaneously offering a home to extremist, discriminatory views in her own party. These views should have no place in modern Scotland."
Scottish Labour's inequalities spokesperson Monica Lennon said: "Not content with just defending racist councillors, Ruth Davidson has weighed in to defend attacks on ethnic minorities by her own MPs as well.
"Even Douglas Ross recognised his comments were offensive, but Ruth Davidson still doesn't seem to think so.
"This whole debacle has only gone to prove once again that the Tories are just the same old nasty party."