Back to work: What's coming up at Holyrood?
Scotland's politicians are getting back to the day job this week, with Holyrood and Westminster returning from recess. Here's a guide to what's coming up in Scottish politics.
---
Programme for Government
The first minister pledged to use her summer to "take stock and refresh". After 10 years in government, she said the SNP needed to set out "creative, imaginative, bold and radical policies".
The first look at this will be in the Programme for Government speech, expected on Tuesday. There have been hints - most recently in Ms Sturgeon's economic strategy speech on Thursday last week - but the meat of her plans will have been held over for parliament.
Her spokesman says the programme will be "very full and very thorough", and will continue to develop policies laid out in the manifesto which carried the SNP back into (minority) government in 2016. But expect some eye-catching new policies too.
One of them is understood to be a "Turing Law" bill to give full pardons to gay men convicted of same-sex offences before laws against homosexuality were dropped, while plans to scrap the 1% cap on public sector pay rises has also been mooted.
Could this refresh of government policy include a reshuffle of Nicola Sturgeon's top team?
So far, Ms Sturgeon has only been drawn to say "wait and see". It's possible she was just trolling journalists by being so coy: no goodbyes were said at the most recent meeting of her cabinet, and officials insist that "the first minister has confidence in all her ministers". But speculation, as ever, abounds.
Who might be in line for promotion and who might face the axe has provided solid pub gossip fodder for politicos all summer.
---
Brexit
It's not going away: the UK's departure from the EU will continue to dominate politics in the coming term.
With the exit talks now under way and work ramping up on the legislation needed to facilitate the process, the role of Holyrood and indeed Scotland's 59 MPs - a large number in a parliament of razor-thin margins - could come to the fore.
To start with, there is the issue of legislative consent. Both the Scottish and the Welsh governments, which have taken to coordinating their opposition to the UK government over Brexit, have warned that they won't support the devolved parliaments giving the green light to the Withdrawal Bill.
They are currently putting together a package of suggestions for potential amendments, in a bid to put the ball in the UK government's court and push them into some kind of movement. Talks between Scottish and UK ministers over devolved powers post-Brexit stalled last month, but are expected to continue in the coming weeks.
Beyond basic consent, there is also the task of scrutinising the various pieces of Brexit legislation - the Withdrawal Bill could be followed by up to seven more Brexit bills. Officials and committees will have to pore over reams of documents while unpeeling layer upon layer of laws; there's talk of potentially having to have extended sessions just to deal with the scrutiny.
The recent Commission for Parliamentary Reform report suggested letting committees sit at the same time as the main chamber - this might be one of the first moves implemented if the workload continues to grow.
---
Budgets
It's approaching that time of year again: the time for budgetary wranglings at Holyrood.
With the UK changing its budget timetabling this year, MSPs have been urged to make a "substantial change" to their own process, effectively towards a year-round approach to budgeting with an eye on the long term.
The SNP remains a minority government, so will have to win over some of its parliamentary opponents in order to get a deal through. Last term's talks saw the Greens partner up with the SNP, but the Lib Dems were also in the frame until late in the day.
That was Derek Mackay's first budget as finance secretary. This year's negotiations will be between parties with a much better knowledge of each others' positions, tipping points and red lines.
Elsewhere on the financial side, there is also the matter of air departure tax, the devolved version of air passenger duty. MSPs voted to set the levy up just before the summer recess, but now face the task of deciding on how rates should be set.
That will be a significant point of schism with the Greens, who oppose any move which might encourage more emissions, potentially souring relations ahead of the budget negotiations.
---
Legislation
MSPs faced the charge of having not got much done in the first year of the fifth Scottish Parliament, with a handful of bills rushed through in the final few days of term after a lengthy period of pre-legislative scrutiny and consultations.
With much of that work complete, there should be a much different picture in the coming year. A number of bills remain outstanding from before the summer, and more legislative goals are sure to follow in the Programme for Government.
There are Child Poverty and Social Security bills in the works, as well as legislation to get the government's controversial Named Person scheme up and running.
A Domestic Abuse bill aiming to criminalise psychological abuse has also been tabled, as has one seeking to strengthen equal representation on public boards and another aiming to ban the use of wild animals in travelling circuses.
Progress on all of these bills is expected in 2017, with more to follow in 2018 including legislation to create a sustainable future for Scotland's islands.
Some backbench and opposition MSPs will also hope to make progress with members' bills. The most prominent among them include James Kelly's bid to repeal the Offensive Behaviour at Football Act, Gillian Martin's call for seatbelts on school buses, Miles Briggs' move for expanded dementia care allowances, and Claudia Beamish's attempt to ban fracking.
---
Labour leadership
Kezia Dugdale's resignation as Scottish Labour leader restarted the political season with a bang, which will continue to echo for a few weeks yet.
The race to replace her has so far largely been characterised by people ruling themselves out of contention, but with Labour's Scottish executive not meeting to discuss timetabling until Saturday, there remains plenty of time for increasingly wild speculation.
With Ms Dugdale looking on from the back benches, Alex Rowley will stand in at first minister's questions for now - a prospect he is apparently relishing. Ms Sturgeon is presumably already working on a list of gags about "leaderless Labour" for their first Thursday clash.
Leadership contests can be chaotic at the best of times; just ask Michael Gove. Having this one play out during the parliamentary term, with all eyes on it and the MSP group at the mercy of the mob of lobby journalists roaming the Holyrood corridors, ought to provide plenty of spark for fireworks.
---
Let there be light
Whoever the party leaders are and whatever they're saying, we might be able to see them a bit better from now on.
While the MSPs were away for the summer, work crews took their place in the Holyrood chamber to install a new lighting rig.
The new lights cost £1.75m, but will apparently last for 25 years and save money on energy efficiency and bulb-changing.
---
Indyref2?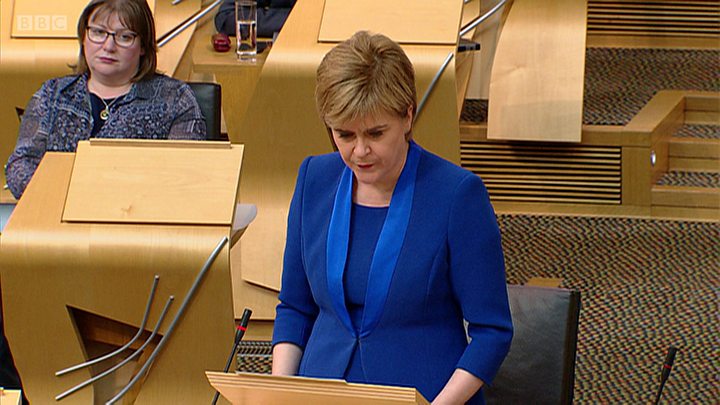 Did you really think we were going to get through the whole article without it coming up?
Yes, Nicola Sturgeon has put indyref2 on the back burner, for now. But that doesn't mean her commitment to the cause has waned - far from it.
To start with, the first minister has pledged to come back with her plans for a referendum timetable sometime next year - her base will not let her forget about it, were there any chance she could. Brexit isn't going away, so the idea of independence as a possible alternative will remain on the table too.
Work also continues behind the scenes on building the case for independence anew, on answering the thorny questions which proved the Yes side's undoing in 2014.
And there's likely to be mention of some kind at the SNP's autumn conference in October - it would almost be a bigger story if it somehow didn't come up.
And you can also expect the i-word to feature fairly regularly at first ministers questions and the like. Ruth Davidson's Conservatives have built their revival on a solid base of opposition to independence, so expect them to pounce on any opportunity to bring it up.
So a steady diet of constitutional intrigue, against a backdrop of budgetary chin-stroking, gradual legislative progress and backstage politicking. It's like they've never been away.