Tory MP Douglas Ross criticised over Gypsy remark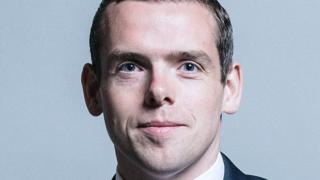 A Scottish Tory MP has been criticised after saying he would impose "tougher enforcement against Gypsy Travellers" if he was prime minister for the day.
Moray MP Douglas Ross made the remark in an online interview that has been put on YouTube.
He later tweeted that he wanted action against those who "flout local planning procedures with illegal encampments".
Traveller and human rights groups said Mr Ross had chosen to attack an already persecuted minority.
In the Meet the MPs interview with Core Politics, Mr Ross was asked: "If you were prime minister for the day, without any repercussions, what would you do?"
He responded: "I would like to see tougher enforcement against Gypsy travellers", before the video immediately cuts to the next question.
'Illegal encampments'
Moray has traditionally had a high number of Gypsy traveller camps relative to its size, but does not have any legal halting sites.
However, a Gypsy site that was built without formal permission was last year allowed to remain in place.
After his video remark was highlighted on social media, Mr Ross clarified that he was referring to those who "flout local planning procedures with illegal encampments as we have seen in Moray many times".
Mr Ross later said that he had been taking part in a "quick-fire question and answer session and my answer was based on what I was dealing with at the time."
But he insisted that illegal and unauthorised Gypsy traveller encampments were a "significant problem" in Moray.
He added: "The settled community continually complain that Gypsy Travellers receive preferential treatment, whether it is with regard to planning decisions or just the way they take over a piece of land or lay by and then often leave it in a significant mess which has to be cleaned up at a cost to the local tax payer."
'Intolerance and racism'
The Traveller's Times, which highlights issues in the Gypsy Traveller community, said: "Blatant displays of anti-Gypsyism by those meant to protect our rights only serves to contribute to the high levels of intolerance and racism directed towards Gypsies and Travellers in society.
"This is a shame as the Scottish government, led by MSPs in the Scottish National Party, is starting to make inroads into the institutional racism and lack of places to stop faced by many Scottish Travellers in Mr Ross' own back yard. Scottish Travellers now know who not to vote for."
Amnesty International's Scottish director, Naomi McAuliffe, told BBC Scotland that Mr Ross's remarks were "divisive and the sort of inflammatory rhetoric that creates barriers rather than offering positive solutions to issues in communities".
She added: "Campaigners and local authorities across Scotland have worked hard to to promote understanding and co-operation between the settled and Traveller communities in their areas, but there is a long way to go to tackle the deep-rooted inequalities which Scottish Gypsy Travellers face every day.
"Douglas Ross' attitude is an example of why the community is still suffering direct discrimination."
Scottish Greens MSP John Finnie said Mr Ross - a football referee - had been given an open goal, adding: "He didn't choose improving health, education or housing, he didn't seek to eradicate poverty, work for a better planet or peace.
"Rather he chose to attack an already beleaguered minority, our Gypsy travellers."
And SNP MSP Christina McKelvie said: "The Gypsy traveller community are part of Scotland's rich cultural heritage and it speaks volumes that Douglas Ross should single out this minority group in the way that he has.
"But in some ways it is not remotely surprising, coming from a party which - under Ms Davidson - is showing, with every day that passes, that it openly embraces intolerance and prejudice rather than condemning it."
It emerged earlier this week that two newly-elected Scottish Conservative councillors in Stirling who had been suspended by the party for making racist and anti-catholic posts on Twitter had been reinstated.