Scots mental health discharge issues 'enormously complex'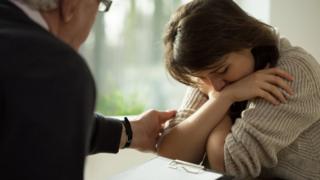 Cases of lengthy delays in discharging patients from acute mental health units are "enormously complex", the Scottish government clinical director has said.
A BBC investigation has found patients in some units waiting more than three years to be discharged after being declared ready to leave.
Prof Jason Leitch said these were not "conventional delayed discharges", and must be handled "very carefully".
However, opposition parties said the government must change its approach.
The BBC conducted a UK-wide investigation of delays in releasing mental health patients from acute units.
At least 19 patients have waited more than a year to be discharged from units in Scotland over the past two years, with a further 32 having to wait more than 100 days.
NHS Lothian saw the longest wait, logged at 1,200 days, while NHS Tayside listed one delay of 1,196 days and NHS Greater Glasgow and Clyde one of 1,193.
'Incredibly difficult'
Prof Leitch, the Scottish government's National Clinical Director, told the BBC's Good Morning Scotland programme that there were "exceptional cases" particularly in the field of mental health which occur in "very small numbers" but which involve "very long delays".
He said: "These cases are usually enormously complex, and sometimes incredibly sad and difficult. These are not the conventional delayed discharges, where the system just needs to speak to each other a bit better and we'll get people out within three or four weeks if we just work a little harder.
"They're fit to leave our traditional acute hospitals, but we have to be very careful with these individuals. Their complexity means they could be a risk to themselves or to others or to society."
He said patients were still "safe and well looked after" throughout delays, and explained some of the difficulties in moving them on.
He said: "We're trying hard to build new housing, to find more appropriate accommodation with 24-hour adult care. Some of these individuals need all-male care or all-female care when they leave the hospital - enormously complex individuals who are frankly quite difficult to manage outside in the community.
"In fact, when you move them, they find it enormously anxiety-inducing. One of the challenges is that they often get very comfortable with the staff and the environment they find themselves in, so moving them to a care home or an adult psychiatry rehab unit or somewhere else actually makes their condition worse.
"If you look historically, we have always had very long waits. We do eventually find solutions for these individuals. We have men and women inside our mental health communities who are very, very complex and require new-build housing with 24-hour care.
"That's not something you can do a week on Tuesday, that requires planning permission, it may be that you need to adjust their house in such a way that new building is needed. Those individuals are being dealt with all the time by our health and social care system, and they will eventually find a better location for them."
---
What's the situation in Scotland?
Delayed discharges from acute mental health units in Scotland over the last two years
| Health board | Longest delay (days) | Second longest delay | Third longest delay | Fourth longest delay | Fifth longest delay |
| --- | --- | --- | --- | --- | --- |
| NHS Ayrshire and Arran | 291 | 260 | 192 | 151 | 137 |
| NHS Borders | 491 | 258 | 162 | 119 | 102 |
| NHS Dumfries and Galloway | 272 | 185 | 181 | 138 | 128 |
| NHS Fife | 418 | 284 | 280 | 275 | 273 |
| NHS Forth Valley | 292 | 258 | 193 | 175 | 170 |
| NHS Greater Glasgow and Clyde | 1193 | 501 | 462 | 452 | 404 |
| NHS Highland | 400 | 400 | 343 | 172 | 140 |
| NHS Lanarkshire | 295 | 254 | 226 | 196 | 179 |
| NHS Lothian | 1200 | 500 | 500 | 500 | 500 |
| NHS Tayside | 1196 | 440 | 438 | 402 | 397 |
| NHS Western Isles | 133 | 48 | 48 | 48 | 48 |
NHS Orkney and NHS Shetland do not have any acute mental health patients, while NHS Grampian did not provide figures.
---
Opposition parties were roundly critical of the Scottish government over the figures, saying a change of approach was needed.
Scottish Conservative mental health spokeswoman Annie Wells said there was "no sign of improvement" in recent figures on delayed discharge.
She said: "The bed-blocking experience is miserable for any patient, but it's particularly bad for those with mental health issues.
"Examples here show the extreme cases where vulnerable people are fit to leave hospital but have nowhere to go, sometimes for years on end. It's unacceptable and has to be addressed as a matter of urgency."
'Serious problems'
Labour's inequalities spokeswoman Monica Lennon said the figures were "shocking" and "expose the serious problems we have with mental health provision in Scotland".
She said: "These figures show the scale of the problem. Each of these cases represents a vulnerable patient not getting the proper support they need. These figures should jolt the government in Edinburgh into action and finally give mental health the parity of esteem with physical health that it needs.
"We need to see a key change of approach from the SNP government on two levels - first a commitment to ensure that considerations towards mental health runs through all government policy, and abandoning the failed policy of passing on Tory austerity to Scottish public services."
Scottish Lib Dem health spokesman Alex Cole-Hamilton, who worked in social care for nearly a decade, said he had "never encountered such a dereliction of care for the needs and interests for patients in need of help".
He said: "This is a national disgrace and a severe violation of human rights. Mental health units by necessity are secure so these people have been deprived of their liberty.
"These figures represent the dire consequences of historic under-funding of mental health with no evidence to show that situation is going to change anytime soon. This situation is only going to get worse without a substantial increase in investment."
'Integration of services'
Prof Leitch said funding decisions were "really difficult", but said integration of health and social care needed to take place on multiple levels - and was most important at the local level.
He said: "We've invested £100m in the last three years into delayed discharge specifically - £500m has moved from health service core budgets into integrated care. That's all positive and good, but these individuals require integration of services at the front line, and its often very local and specific. That's where the relationships have to be better, where people have to get to know each other, where the integration of services has to improve.
"For everyone who tells me to ring-fence money, I have another person who tells me not to ring-fence money. That's a really difficult decision.
"My own instinct, irrespective of the politics, is that the best people to make decisions about the funding are the local people who understand the systems. That includes patients and users, families and carers inside that system, so that's what we've tried to do. We've tried to devolve the decision-making as far as possible to the localities.
"If you're going to have elderly care homes or mental health in the community, those decisions can be made very locally, because that looks different in Elgin than it does in Partick - very different. I can't understand mental health in Elgin, people in Elgin have to understand mental health in Elgin."