Election 2017: Sturgeon backs Tasmina Ahmed-Sheikh over Law Society probe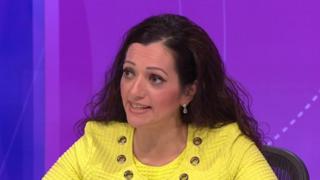 Nicola Sturgeon has repeated her backing for an SNP election candidate who is being investigated by Scotland's legal watchdog.
The Law Society of Scotland is looking into "administrative matters" relating to Tasmina Ahmed-Sheikh's time as a solicitor.
Ms Ahmed-Sheikh is the SNP's candidate for Ochil and South Perthshire.
Ms Sturgeon said the fact an investigation was under way "does not mean there has been wrongdoing".
The Scottish Daily Mail reported on Wednesday morning that the Law Society investigation relates to "financial impropriety involving a trust fund set up to help a vulnerable person".
The investigation is said to concern her time as a solicitor with the Hamilton Burns WS firm.
Opposition parties have repeated their calls for Ms Ahmed-Sheikh to be suspended.
But speaking on the election trail in Musselburgh, Ms Sturgeon told BBC Scotland that the Law Society investigates "many, many complaints about solicitors every year".
She added: "Just because a complaint is raised and an investigation is under way does not mean there has been wrongdoing on the part of the lawyer concerned.
"It's important that these matters are fully and robustly investigated, that's part of the role of the Law Society, so they should be allowed to get on with that investigation and come to a conclusion."
When she confirmed the investigation last week, Ms Ahmed-Sheikh said: "I'm proud of my 17-year career in the legal profession.
"I am aware that issues have been raised with the Law Society in relation to administrative matters during my time at my former firm.
"The Law Society has a duty to uphold professional standards and they must be allowed to do so without prejudice.
"In the meantime, I'm getting on with fighting this election campaign and seeking re-election to stand up for the people of Ochil and South Perthshire.
"The Law Society has a duty to uphold professional standards and they must be allowed to do so without prejudice."
'Growing questions'
Scottish Conservative MSP Murdo Fraser said: "This whole episode stinks. It's quite clear that the SNP should withdraw all support from Mrs Ahmed-Sheikh in this election.
"However, there are now growing questions over the way Nicola Sturgeon handled this matter.
"The SNP must now come clean. A failure to do so will demonstrate once again that they are trying to take the voters of Scotland for a ride."
Scottish Labour General Election campaign manager James Kelly said: "This is a devastating allegation. Quite simply, Nicola Sturgeon must immediately suspend Tasmina Ahmed-Sheikh."
Ms Ahmed-Sheikh won the Ochil and South Perthshire seat with a majority of just over 10,000 at the 2015 general election.
She will be standing for re-election on 8 June, when the other candidates will be Luke Graham of the Scottish Conservatives, Joanne Ross of Scottish Labour and Iliyan Stefanov of the Scottish Liberal Democrats.