At a glance: SNP manifesto for May's council elections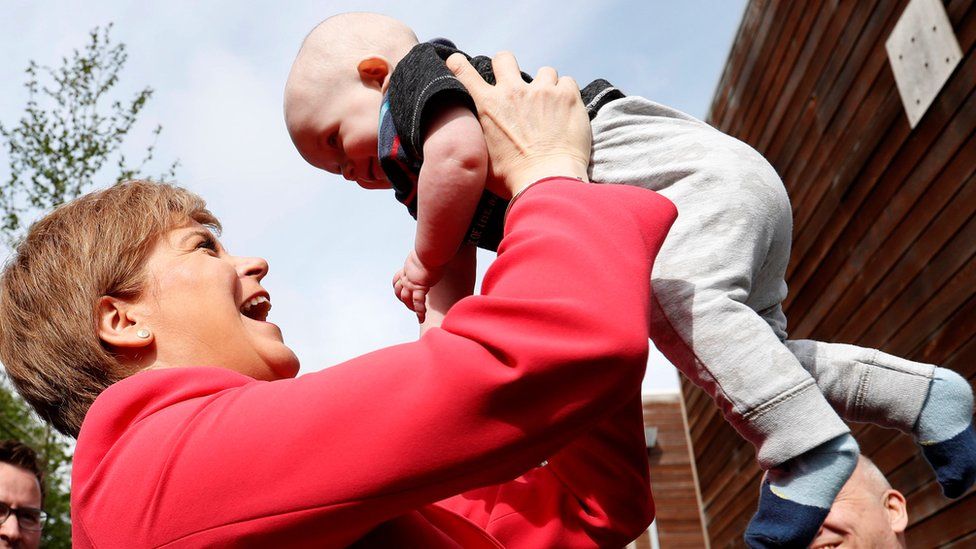 The SNP have launched their manifesto ahead of council elections on 4 May. Here are some of the key points from the document, which can be read in full here.
Early years and childcare
Early years support gets top billing in the manifesto, with the party pledging "a transformation in early learning and childcare". It says childcare should be "flexible and delivered in a way which best suits parents and families' needs, with parents able to choose how to access hours".
The manifesto commits SNP councillors to:
Work with the Scottish government to expand childcare to 1,140 free hours per year by 2020
Pay the living wage to care workers who are delivering the 1,140-hour pledge
A free lunch for all two, three and four-year-olds in nursery
Two hours a week of physical activity for children in early learning and childcare, including at least one hour outdoors
The SNP say they are investing in Scotland's schools to give every child the best start in life, with closing the attainment gap the main priority.
The manifesto says they will:
Maintain teacher numbers and pupil-teacher ratios
Roll out the "daily mile" exercise scheme in council-run nurseries and schools
Prioritise closing the attainment gap and raising the bar for all schools
Give more power and resources directly to schools so teachers, parents and communities can make decisions
Promote the First Minister's Reading Challenge in schools
Housing and community empowerment
The manifesto highlights that 30,000 new affordable homes were built during the last parliament, pledging to increase this number to 50,000 in the current term, increasing supply and accessibility.
Build 50,000 new affordable houses across Scotland by 2021, including 35,000 for social rent
Reduce the amount of time people spend in temporary accommodation and consider proximity of this housing to health and education services
Work to bring empty houses into use for rent or purchase
Devolve a minimum of 1% of each council's budget directly to communities
Help communities use new legislation to take over land or buildings currently in public ownership
Revitalise communities by helping local groups take ownership of neglected land and property, with backing from the Scottish Land Fund
Economic growth and finance
The manifesto highlights councils as having a "key role" in driving the economy, saying they can "work to breathe new life into our high streets and town centres".
The SNP want councils to:
Cap council tax rises at no more than 3% per year
Work with the Scottish government to secure a share of income tax for councils
Continue the Small Business Bonus Scheme to lift small and medium-sized firms out of business rates
Streamline the planning process to support economic development
Increase government spending with local small and medium-sized firms
Environment and climate change
The SNP say their councillors will work to "ensure we can all take pride in our villages, towns, cities and countryside" and help the government improve air quality.
The manifesto says the party will:
Reduce litter, improve recycling and reduce the amount of waste sent to landfill
Examine the idea of a "deposit return scheme" for empty bottles and packaging
Make sure councils play their part in meeting Scotland's climate change targets
Use central funding to pilot "new and innovative" approaches to energy efficiency
Support the planting of woodland to help prevent flooding and help water basin management
Explore how pension funds can invest in Scottish forestry
Transport and infrastructure
The manifesto says Scotland's older people and people with disabilities will continue to be able to travel for free on local or long-distance buses, and says the SNP is committed to supporting local bus services.
Target local solutions to improve bus services, including the option of publicly-run services
Back active travel and encourage people to switch to cycling
Support rollout of superfast broadband to all businesses and premises by 2021
Related Internet Links
The BBC is not responsible for the content of external sites.