Major revamp of planning system unveiled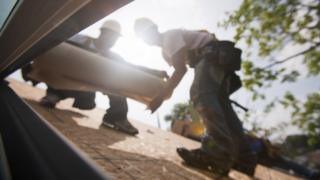 Plans for major changes to the country's planning system have been published by the Scottish government.
The revamp is largely aimed at making it easier to build more high-quality homes, and at reducing bureaucracy.
It would also give local people a greater say in planning issues in their area.
A consultation on the plans will run until 4 April, with a planning bill expected to be brought forward later this year.
The consultation document says that Scotland's economy needs a planning system which is "open for business, innovative and internationally respected".
'Better places'
And it says the planning system should help to improve people's lives by "making better places and supporting the delivery of good quality homes".
Key changes include zoning more land for housing, promoting self-build and removing the need to apply for planning permission for more types of development.
The consultation will also seek views on new rights for communities to produce their own plans for their local area.
It proposes that a wider range of people should be encouraged and inspired to get involved in planning - with children and young people having a stronger voice in decisions about the future of where they live.
The proposals build on recommendations of an independent review carried out by a panel of experts last year.
The Scottish government said the proposals will "support economic growth, delivery of houses and increase community involvement in planning decisions".
Planning minister Kevin Stewart said: "Planning affects everyone's lives, from making sure we have the right types of homes to driving forward regeneration.
"We need a strong and efficient system to support these aims and for long-term economic growth. I believe these proposals will mean we are better placed to make high-quality development happen sooner and in the right places."
Nicola Barclay, chief executive of industry body Homes for Scotland, said:"Scotland needs significantly more homes for its growing population but builders are finding it harder than ever to make a start on new sites and get houses out of the ground.
"We are therefore pleased to see some of the recommendations we put forward during the course of the independent review, such as the introduction of clear national and regional aspirations for housing delivery and embedding an infrastructure first approach, incorporated into today's consultation."