Rebuked MP Blackman backs female quotas at Westminster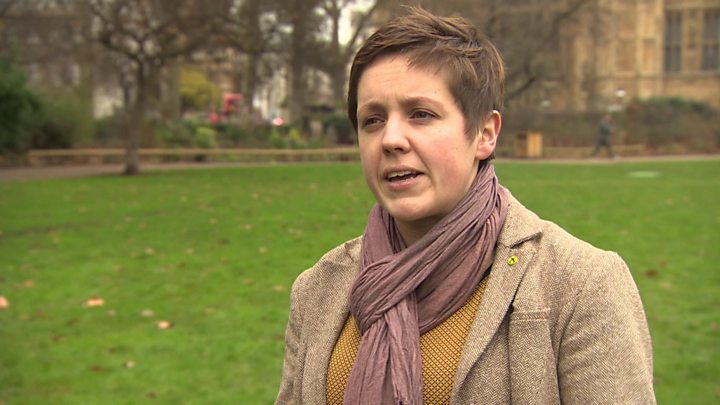 An MP who was reprimanded for taking her young children to a committee meeting has backed quotas on the number of women entering the House of Commons.
Aberdeen North MP Kirsty Blackman said she could see no better way to increase the number of women at Westminster.
It follows calls from MPs for political parties to face fines if they fail to ensure at least 45% of their general election candidates are female.
Only 30% of MPs at Westminster are women.
The Women and Equalities Committee said that figure represented a "serious democratic deficit" and that there was "no good reason" why this should be the case.
Kirsty Blackman was reprimanded by Commons clerks in July last year after a childcare emergency meant she was forced to take her two-year-old daughter and five-year-old son to a Scottish affairs select committee.
'Correct decisions'
Ms Blackman stepped down from the committee in September, saying it was "becoming a challenge" to spend more time away from Aberdeen.
Speaking on the BBC's Good Morning Scotland programme, Ms Blackman, who was one of 20 female MPs the SNP sent to Westminster in 2015, said her "gut reaction" had been to oppose quotas for women, however she now thought there was no better way to boost numbers.
She added: "I genuinely cannot see another way to solve this problem. I cannot see another way for parties to take the correct decisions in order for parties to end up with enough women candidates.
"I can't see that they can do that without positive discrimination measures."
When asked if parents should be allowed to bring their children to work, Ms Blackman responded: "Look, I don't think that parents should be taking children to select committees.
"But what I do think is that the House of Commons should have adequate provision for childcare facilities for those people whose children don't live in London and that's not just about women, that's about parents."
Only 35% of MSPs at Holyrood are female, with the Conservatives among the lowest for female representation at just 20%.
'Business in general'
However, the party's equality spokesperson Annie Wells MSP said female-only shortlists were not the answer to the issue.
She said: "We don't believe that quotas are the right way to go. We believe that it's about removing some of the barriers that allow women to get into politics.
"It's about role modelling, it's about mentoring and it's about making sure that we encourage more women in without actually setting firm targets, because if we set firm targets we're saying that we don't want more.
"We actually just want to encourage more women into politics and into business in general and entrepreneurship."
She added: "To me, it's not about having a set amount of people there to make up the numbers. I wouldn't want to get my job because I was a woman set against a guy. I'd want to get my job on my merits."