What does 2017 have in store for Scottish politics?
In terms of sheer political drama, 2016 will be hard to top. But what does 2017 have in store for Scottish politics? Here, I look at six areas where there could be some headline-grabbing moments.
---
1. The Budget - Will it pass?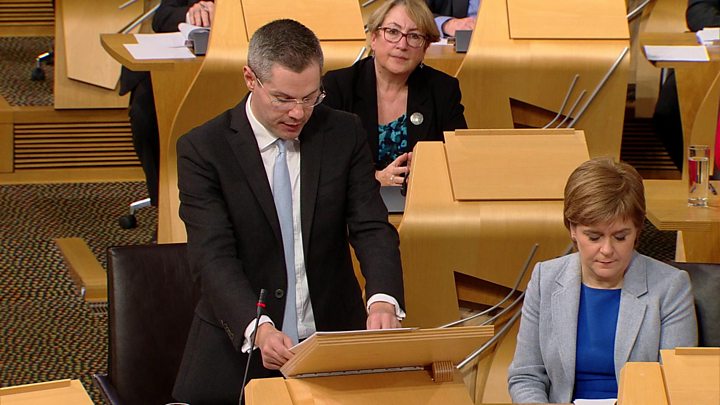 One of the last Holyrood set-pieces of 2016 was Derek Mackay's draft budget, and it is this set of tax and spending plans which will dominate the parliamentary agenda for the first weeks of 2017.
Unveiling his proposals was just the start of the finance secretary's work, with detailed negotiations involving councils and opposition parties now under way.
With the SNP a minority administration, Mr Mackay will need the backing of at least one opposition party to get his plans passed. But who might it be? The Greens or Lib Dems are perhaps the most likely candidates from a political perspective, and each will be weighing up what concessions they can extract from the government in exchange for their backing.
Holyrood's committees have already started their scrutiny of the proposals, and this will continue through January before full-chamber debates and votes in February.
Due to Holyrood's new powers, there will be a separate vote on tax proposals before the vote on the final budget deal - essentially votes on how money is raised, and then on how it is spent.
---
2. Brexit - Who will have a say?
With Theresa May pledging to start the formal process of taking the UK out of the European Union by the end of March, Brexit is shaping up to be the biggest political topic of the year.
Before that, sometime in January, we will hear the result of the Supreme Court case over how that process is triggered - if Mrs May can do it on her own, or if she will need parliament's consent.
Significantly, the judges will also rule on whether she should seek Holyrood's consent. During the case, the advocate general argued that the Sewell convention, stipulating that Westminster would not normally legislate on devolved matters without Holyrood's consent, was only a "political convention" and not legally binding.
However successful that may prove to be as a legal argument, as a political one it mainly serves to boost the SNP's position, that Scotland (where 62% of voters backed Remain) is effectively being forced out of the EU against its will.
First Minister Nicola Sturgeon has said this situation makes a second independence referendum "highly likely", but she has also dedicated herself to campaigning for a "soft" Brexit, keeping the whole of the UK inside the EU's single market.
She has also published proposals to keep Scotland in the single market even if the rest of the UK leaves. How seriously these proposals are taken by Mrs May's government will have a big bearing on what happens next, from a Scottish perspective.
MPs have agreed to back the government's proposed Brexit timetable, with the triggering of Article 50 by the end of March - in exchange, the government will have to break its current vow of silence on the topic and publish some of its plans for the coming negotiations.
The content of these plans will do much to shape the year ahead, both at Westminster and Holyrood.
---
3. Council elections - Who will win what?
It's becoming increasingly rare for six months to pass without Scots heading into polling booths, never mind a year, so unsurprisingly there is an election in 2017. This time, it's the turn of local authorities.
The SNP - an electoral juggernaut in recent years - has its sights set on a number of Labour-led administrations, particularly in Glasgow, where the party swept away every single constituency seat in the 2016 Holyrood election.
Besides the issue of whether Labour can fight off the SNP in local elections any more successfully than it has on a national level, other questions abound.
Will the resurgence of Ruth Davidson's Conservatives continue? Will the Lib Dems continue their apparent Brexit bounce, or will the Greens keep up their recent form and mount a serious fight for fourth place?
Can UKIP harness the million-strong Leave vote across Scotland to emerge from obscurity (they polled 2% in 2016 and 1.6% in 2015) and win their first Scottish council seat?
Underpinning all of this is the issue of turnout. Besides the generally lower level of enthusiasm for local elections, after five elections/referendums in three years, will will voter fatigue (and indeed door-knocking party activist fatigue) be an issue? And how might that affect the results?
---
4. Lots of legislation - What should you watch out for?
Besides councils and continental complications the everyday business of government goes on at Holyrood.
In her programme for government, Nicola Sturgeon announced plans to introduce up to 15 new pieces of legislation in the 2016/17 term.
There is a full list here, but the highlights include:
In addition to the government's plans, there are also various members bills which could get an airing in 2017 - in particular James Kelly's bid to abolish the Offensive Behaviour at Football Act, which is backed by all opposition parties.
There are also various pieces of legislation passed in the previous parliament which come into effect this year - such as the Abusive Behaviour and Sexual Harm Act, which will make so-called "revenge porn" a criminal offence from 1 April.
---
5. Referendum time - Will there be an Indyref2?
The elephant in the room in many of the categories above is of course Scottish independence.
Brexit in particular poses many questions, quite a few of which the SNP see independence as perhaps the best answer to.
Could there be a second independence referendum in 2017? It's certainly possible. Ms Sturgeon's government is currently consulting on a draft bill, in case she does decide to pull the trigger.
In the first minister's ideal world, she would have waited another few years to take a second run at independence. But Brexit has thrown the issue into sharp relief; the clamour from her party's base is growing, and it might be becoming a "now or never" issue.
But there are also quite a few hurdles in the way. The biggest one is that she might not win; recent polls have shown effectively no upswing in support for independence since the Brexit vote. However, the electorate has of late been an unpredictable beast, prone to defying the expectations of pollsters - hence the series of consultations and surveys.
The results of the government's draft bill consultation should be published at some point early this year. The SNP's own party-level deliberations, via a "national survey" and a "growth commission" headed by former MSP Andrew Wilson, are likely to be more instructive - but less likely to be openly published.
Uncertainty abounds. The progress of the Brexit process might clear some of it, slightly, as we develop a better picture of what the future might look like for Scotland, the UK and the EU.
With this in mind, 2017 may be a bit soon for "indyref2", even for the more gung-ho supporters of independence - Alex Salmond, who has some experience calling referendums, reckons autumn 2018 is a more likely date.
---
6. President Trump - Will he visit Scotland?
Beyond domestic politics, there's also the small matter of a new US President being sworn in on 20 January - a President with a tumultuous history of involvement in Scottish politics.
Not only does Donald Trump have two Scottish golf courses and a colourful history of correspondence with Alex Salmond, his mother was born on Lewis.
A frequent visitor to Scotland, it is far from inconceivable that Mr Trump might drop in by his maternal homeland as president - after all, his first foreign trip as Republican candidate for the White House in June took in Turnberry and Aberdeen.
Nicola Sturgeon has refused to be drawn on whether she would meet with Mr Trump, having said that "some of his comments were undoubtedly racist" during the US election campaign, where she backed his opponent Hillary Clinton.
However she did take a call from the President-elect in December, and has pledged to "engage positively and constructively with the American administration".