North Lanarkshire Council warns of £35m in cuts and savings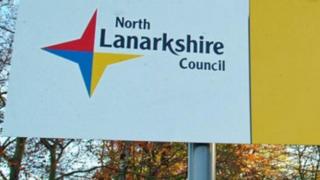 A third major Scottish council has warned it would need to find big savings following the Scottish budget.
Labour-run North Lanarkshire said it faced cuts of nearly £35m.
Last week, Glasgow and Fife councils announced they would have to find at least £90m of savings between them.
The warnings come as BBC Scotland analysis revealed North Lanarkshire should get £625m from the Scottish government next year - virtually the same as the current figure.
Nationally, the basic amount of money being given by the government to Scotland's 32 councils - the revenue budget - will fall from £9.693bn this year to £9.496bn next year.
However, this is not the final total because once certain grant funding is included, the government proposes to give councils more than £10bn.
If North Lanarkshire Council judged it would need more revenue to balance the books it could for the first time in nearly a decade increase council tax by 3%.
The local authority has yet say if it will put bills up.
Council leader Jim Logue said the Scottish government's funding offer would mean a £34.5m cut to local services in North Lanarkshire in 2017/18.
He explained: "We have now had time to analyse the Scottish government's budget announcement and, put simply, although there is a £400m increase to the amount of money the Scottish government is getting, they have decided once again that local services should bear the brunt of the cuts.
"In North Lanarkshire, that is likely to mean £34.5m of cuts once cost pressures and inflation are taken into account.
"That's a huge potential impact on vital local services. In addition, there is no increase in capital spending, which means that investment in new schools, houses and roads will stagnate.
"What the draft budget shows is that local councils like North Lanarkshire are being hit unfairly. But we are ambitious for our communities and the local economy and we will do everything we can before the budget is finalised to demand a guaranteed fair deal for North Lanarkshire."
'Constant attack on local services'
The council will now work on producing its own budget for next year, with decisions due in February.
Councillor Logue said: "We have always tried to minimise the impact on vital frontline services and we will continue to do that.
"We have also had a commitment to minimising the possibility of compulsory redundancies and we will look to continue with that policy. But this constant attack on local services in year after year of budget cuts has to stop."
Councils are heavily dependent on the Scottish government for their money.
The figure of £625m seen by BBC Scotland includes North Lanarkshire's share of a new £120m pot which would have to be given straight to headteachers.
Critics contend that because this is a new scheme, the total figures for this year and next year do not compare like with like.
Savings could also need to be found to counteract the effect of inflation or to cope with rising demand or costs in particular services.
Scotland's Finance Secretary Derek Mackay insisted that his draft budget, presented to Holyrood last week, was a good one for local government.
He said: "You have to look at the whole package to local government. If this settlement was so bad tell me why Cosla hasn't rejected the package that I've presented to local government?
"They're considering the package and they certainly haven't rejected it because they recognise that there's been movement in areas of policy."