Scottish Parliament's chamber lights to be replaced at a cost of £1.75m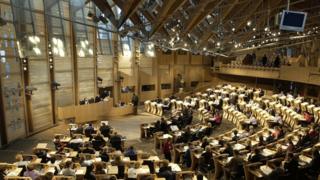 The chamber at Holyrood is to have new lights costing £1.75m, it has been confirmed.
Officials at the Scottish Parliament said all options had been examined to fix the "failing lighting system".
It was concluded that replacement was the best solution, with the costs being spread over two years.
It has emerged that the fittings are more than 12 years old and the original supplier no longer manufactures or supports the design.
The corporate body responsible for the Holyrood building believed there was a real risk of "major disruption" to parliamentary business if nothing was done to the current system which uses the out-dated metal halide technology.
The new design will;
have a 25-year life span
will include contractual requirements to support its running over that period
save £350,000 over the 25 years
and there will be a significant reduction in energy consumption and CO2 emissions
A Scottish Parliament spokesman said: "The lighting technology in the chamber is beginning to fail and needs to be replaced as it poses an increasing risk to parliamentary business.
"All options have been explored and our decision follows careful and thorough consideration. We will spread the cost over two financial years to meet this from existing resources.
"We anticipate running cost savings of around £350k over the lifespan of the new system."