Scottish government school reform rationale 'unclear'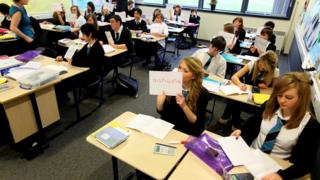 The Scottish government is facing a call to clarify why it wants a shake-up in the way schools are governed.
The Royal Society of Edinburgh (RSE) recently held a discussion on plans to give head teachers more powers.
A report on the meeting notes some concerns which may need to be addressed. One point made is that the "over-riding rationale is unclear".
The government said attainment improved when parents and communities become more involved.
The report sets out the issues raised in the discussion, which involved a number of stakeholders and experts. The RSE itself does not necessarily share or endorse these views.
The Scottish government is reviewing how schools should be governed. It wants to try to give schools more powers - the aim is to help head teachers find the best ways to raise attainment locally.
Supporters argue that schools are, in effect, a national service which councils currently are entrusted to deliver. They believe more could be done to ensure schools are accountable to the communities they serve.
Critics fear head teachers could be landed with more administrative and bureaucratic responsibilities. They also worry about the erosion of council powers.
The account of the RSE discussion echoes some of these points.
Clarity call
It reads: "While the governance review makes a number of specific commitments, including the creation of new education regions and encouraging school clusters, the overarching rationale is unclear.
"Has the Scottish government launched this review to support its priorities on attainment? If so, it is not clear how the proposed governance changes will lead to improved educational experiences and outcomes for young people.
"Perhaps the reforms are concerned with reducing bureaucracy. Or they might be centred on developing a more democratic education system.
"A clear rationale is essential as this will influence the type of governance and accountability structures required."
The account added: "Concern was raised that a lot of energy and effort could be expended on reforming governance structures without it being clear what impact this will have on learners."
The government review is looking at what powers head teachers should have and what should still be done by councils.
It is also discussing the powers of planned new regional education boards.
The government's presumption in the review will be to devolve as much power as possible to schools.
Councils - which are fiercely protective of their traditional role in the school system - will still be democratically accountable for schools although the powers they will have are still being discussed.
The government also plans to give £100m from changes to the council tax straight to head teachers to spend on schemes to raise attainment.
A Scottish government spokesman said: "We know that international evidence shows that attainment in schools improves where parents, families and communities are more involved. That is one reason why we are decentralising power to schools.
"Decisions about children's learning and school life should be taken at school level, supported by parents and the local community.
"That view is backed by the OECD, which in its review of Scottish education in 2015 said we needed to 'change the centre of gravity in Scottish education towards schools, communities and education networks'."
The Scottish government's consultation closes on 6 January.