Exam chief Janet Brown faces MSPs' questions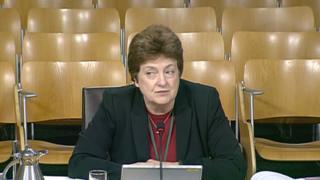 The head of Scotland's exams authority has been accused of blocking teachers from doing their jobs.
Janet Brown, the chief executive of the Scottish Qualifications Authority (SQA), faced MSPs during Holyrood's education and skills committee.
She was also accused of failing to acknowledge the organisation has a "fundamental problem".
Ms Brown told MSPs the Curriculum for Excellence was the biggest change to Scottish teaching in a generation.
She said it caused "discomfort" for some teachers but insisted the body has listened to feedback on assessments, held reviews and is simplifying documents.
She said the previous qualifications were based on teachers having "off-the-shelf everything" and while that was "probably less of a workload", they were a "straitjacket".
Labour MSP Johann Lamont said critical comments to the committee from teachers about unclear documents from the SQA and frequent changes to assessments were of a "different level" to that seen before.
She asked Ms Brown: "Do you recognise that is of a different level? Than simply saying you know what teachers are like, they don't like change, they would rather have a book off a shelf rather than do their job, which frankly is the defence that you are presenting today."
Ms Brown replied: "I did not mean to say that. That is not what I meant. Teachers have a very difficult job. Teachers are there and they feel passionately about educating the young people in front of them.
"What I was trying to communicate was by the nature of what CfE was trying to do, there was a decision taken that there would not be detailed off-the-shelf assessments provided by teachers, it was very much around trying to move towards a use of evidence that was naturally occurring in the classroom.
"Now, that is something that has not worked, for multiple reasons, and that is the reason why we need to address it."
Ms Lamont said: "The consensus I think exists is that people don't think SQA is working properly, that it gets in the road of them doing their job.
"It's not people nitpicking. It's people saying there is a fundamental problem. And what I get today is you don't accept there is a fundamental problem."
Question paper
Committee convener James Dornan said teachers the committee has met believe communication between them and the SQA "was non-existent".
He said: "They weren't getting anything from it, it seemed to be more to obstruct them than to help them, and a lot of things the SQA seemed to be putting in place for teachers were done for no apparent purpose as far as the teaching profession was going. Surely you are either doing it wrong or you are communicating it badly?"
Ms Brown said communications could be "challenging", and added: "When we get feedback... we look at it and we make changes. Unfortunately when we make those changes we end up changing the documentation, and that has a knock-on impact on people's confusions."
Ms Brown was also questioned over the Scottish Association of Geography Teachers' submission that 54% of those surveyed said this year's Higher geography exam was "poor/shocking/terrible/worst ever and nothing like specimen or previous paper" and concerns were raised over errors in the computing and maths papers.
She said the geography paper was "to standard", it was not true that is was nothing like the specimen paper, and that the SQA did not receive such criticism at the time of the exam.
She added: "No one question paper should contain errors but we develop a significant number every year."