MSP calls for government action over change to Toblerones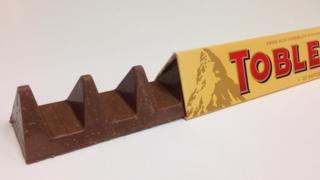 An MSP has lodged a motion at Holyrood calling on the UK government to "take speedy action" over the reduction in weight of Toblerone chocolate bars.
SNP MSP Colin Beattie put forward a motion claiming the changes to the bars are "emblematic of the devastating consequences" of Brexit.
And he wants to "offer condolences to those mourning this change".
Mondolez International announced the change earlier in the month due to a rise in the cost of ingredients.
The gaps between chunks of chocolate on the bars have been increased, resulting in the weight of 400g bars being reduced to 360g and 170g bars to 150g, with the size of the packaging remaining the same.
The US firm denied the change was made as a result of Brexit, although a spokeswoman did note that the foreign exchange rate is currently "not favourable" and could not clarify if it only applied to the UK.
'Devastating consequences'
The motion lodged by Mr Beattie, who is the MSP for Midlothian North and Musselburgh, reads: "That parliament notes with concern Mondolez International's recent decision to widen the gaps between the segments of the iconic Swiss chocolate bar, Toblerone, in the UK; understands that this was made in order to allay rising costs for numerous ingredients; believes that this is emblematic of the devastating consequences that Brexit could bring."
The motion continues that parliament should "offer its condolences to those mourning this change to the bar" and "calls on the UK government to take speedy action to rectify the change, but wishes the company the best possible success with the lighter bar."
The Scottish Conservatives offered to buy Mr Beattie some Tunnock's tea cakes.
MSP Murdo Fraser said: "Given the grief Mr Beattie is suffering over the scaling down of Toblerone, the Scottish Conservatives pledge today to buy him some good Scots chocolate, like a pack of Tunnock's tea cakes which - regardless of Brexit - remain as delicious and substantial as always."
Lib Dem MSP Mike Rumbles added: "We all know Brexit won't be a picnic but Mr Beattie should realise that the SNP's attempt to introduce a double decker of uncertainty through another breakaway will only make the situation worse."
A Scottish Greens' spokesman said: "Mr Beattie's ridiculous motion has caused ripples of disbelief and snickers of laughter. He really has set the bar for bizarre outcries at Holyrood. It'll be a lesson to him about the perils of submitting a motion just before lunch."