Campaign to highlight Scotland's car smoking ban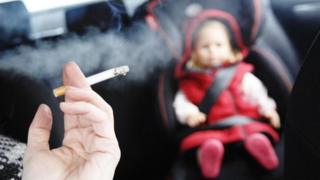 A campaign highlighting the harm of second-hand smoke to children in cars is being aired on television and radio.
A new law banning smoking in vehicles carrying anyone under the age of 18 is due to come into force in Scotland on 5 December.
Anyone caught flouting the ban could face a fixed penalty of £100.
The new campaign will highlight the harms and the penalty in a bid to encourage more drivers and passengers to comply with the new law.
MSPs voted unanimously in favour of a change in the law after former Liberal Democrat MSP Jim Hume introduced the Smoking Prohibition (Children in Motor Vehicles) Bill last year.
'Clean air'
Mr Hume, whose mother died of cancer that he believes was caused by second-hand smoke, said at the time that up to 60,000 children in Scotland could be affected by the new legislation.
According to the World Health Organisation, the average toxic particle levels breathed in during a smoking car journey are more than 10 times higher than the average levels found in the air in Edinburgh.
Aileen Campbell, Minister for Public Health and Sport said: "It is never safe to smoke in a car carrying a child and the aim of this legislation is to ensure the health of children in Scotland is protected.
"Children breathe faster than adults, and therefore breathe in more of the harmful chemicals contained in second hand smoke.
"As 85% per cent of second-hand smoke is invisible and odourless, many may not be aware of the dangerous levels reached, even in short car journeys."
Irene Johnstone, head of British Lung Foundation in Scotland, said the organisation had campaigned for a similar ban in England and Wales.
She added: "It's vital steps are taken to protect the lung health of our children.
"Every child deserves to breathe clean air, and the ban will protect thousands of children."