Labour 'debate' on post-Brexit powers for Scotland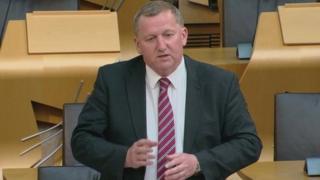 Scottish Labour leaders have called for a debate on post-Brexit powers for Scotland amid claims of a "deep split" in the party over independence.
Party deputy leader Alex Rowley said Scotland should aim for home rule in a "confederal" UK post-Brexit.
Leader Kezia Dugdale agreed there should be a debate about powers repatriated from the EU, but underlined that Labour "is against independence".
The Tories said Labour were in "complete disarray" on the matter.
Ms Dugdale insisted that she and her deputy were "united" in opposing a second independence referendum.
She has attempted to move the party on from constitutional debates, focusing instead on Holyrood's existing powers and how they can be brought to bear on issues such as education and equality.
However, Mr Rowley wrote on his blog that "the constitution overarches all issues", adding that he had "never" considered himself a "unionist".
'Neither unionist nor nationalist'
He wrote: "The country has struggled to move on from the 2014 independence referendum with many people remaining loyal to parties who either supported Yes or No depending on how they voted. The political commentators and the wider media make reference to the political partiers as being unionist or nationalist as a matter of fact.
"I believe Scotland must move beyond the narrow confines of unionism and nationalism which has dominated the political debate for the last few years.
"Labour is neither unionist nor nationalist. Of course we cannot duck the constitutional question, we must set a clear vision for Scotland in the 21st century but we cannot allow that vision to be dictated to by the narrow ideologies of unionism and nationalism, neither of which offer an answer to the social and economic challenges of our time.
"What Labour must do now is set out its vision of a post-Brexit Scotland which will include home rule within a confederal United Kingdom, building for the future on the socialist ideals of equality, fairness and justice."
Ms Dugdale - who had to underline her own support for the union after saying it was "not inconceivable" she could back independence if the UK leaves the EU - made opposition to a second independence referendum a key feature of the party's Holyrood election platform.
Asked by BBC Scotland if she considered herself a unionist, Ms Dugdale said she was "first and foremost a socialist".
She said: "I was profoundly proud to defend the union during the independence referendum campaign and I hope that if there was ever another referendum you would see the Labour Party unite in that direction again.
"Our manifesto was very clear - we're opposed to a second independence referendum.
"In light of Brexit it looks very much like we're going to be leaving the European Union, and with that, powers are going to be coming back to the United Kingdom. There's a debate to be had about what happens to those powers.
"Should they come to Scotland, or go to the UK parliament? The Labour Party is debating these big ideas. Of course there'll be a new stage in the devolution process but right now we have got be very clear that were opposed to a second independence referendum because actually that's what the vast majority of Scots want, to move on from those arguments of the past.
"Alex and I are absolutely united that there is another debate to be had about powers for the Scottish Parliament. And we're also united that another independence referendum is the last thing that Scotland needs. You'll also see us unite around the belief that we have the powers in the Scottish Parliament to make different choices to the Tories."
However, Scottish Conservative chief whip John Lamont said Mr Rowley's comments "prove that Scottish Labour are in a complete state of disarray".
He said: "There is a deep split at the top of the party, and it is clear that there are several key figures that would be happy to stop defending the union.
"It's now clear that the Scottish Conservatives are the only party willing and able to stand up to the SNP's plans for separation."