Warning over council service quality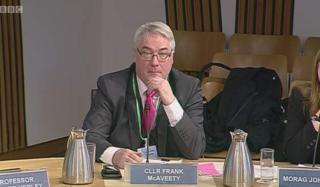 The head of a local government partnership has urged the Scottish government to "wake up" to the impact of council funding cuts.
Frank McAveety, head of the Scottish Local Government Partnership (SLGP), said some local services will no longer be provided at an acceptable standard.
Mr McAveety was speaking at a meeting of Holyrood's local government committee.
The Labour councillor is also leader of Glasgow City Council.
The local government revenue settlement fell by £349m in cash terms (3.6%) in 2016-17, meaning a reduction of £507m (5.2%) in real terms once inflation is taken into account. Councils expect further cuts in the next financial year.
'Kidding themselves'
The SLGP represents Glasgow, Aberdeen, South Lanarkshire and Renfrewshire councils, which Mr McAveety said had budget gaps of £74m, £44m, £35m and £31m respectively.
He told MSPs on the committee: "There will be cases I think within the next three years where councils will have to sit down and think there might be some services they can no longer provide to the level that would be expected by any taxpayer.
"That's a real challenge and everybody in government has to wake up to that, and if I hear again that this is going to lead to modest changes that won't really impact on services, I think they are kidding themselves on."
Questioned about authorities' use of new powers to increase council tax by up to 3% without incurring penalties from the Scottish government, he said the maximum increase would only meet a 10th of Glasgow City Council's budget gap.
Strathclyde University professor George Black said revamping the funding arrangements between the Scottish government and councils in favour of greater local authority control would help cut inequality and boost economic growth.
'Democratic mandate'
But Michael Cook, vice-president of local government body Cosla, said the Scottish government's decision to increase council tax bands for more expensive properties and use the money to boost educational attainment means funds are "being drawn off from local authority areas and used to support a national policy".
He said: "This drives a coach and horses through the principals of local taxation and completely trashes the democratic mandate of local authorities.
"Generally speaking when it comes to making budgetary decisions in local authority areas about what the priorities should be, people on the ground in those authorities are much better placed to make those judgments than are ministers."
SNP MSP Kenneth Gibson highlighted that the Scottish government's budget had been cut by Westminster.