EVEL: 'Too early to judge' changes, Lords committee says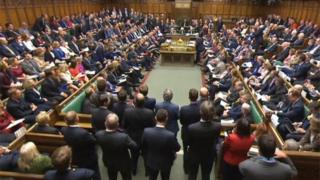 It is too early to say whether English Votes for English Law (EVEL) strengthens or weakens the union, the Lords Constitution Committee has said.
The committee said calls for English MPs to have a greater say over English issues were understandable.
But it also said there was risk in providing a separate voice for England through the UK Parliament.
EVEL has been criticised by the SNP, which argues that it turns Scottish MPs into "second class" members.
And former Tory Scottish secretary Malcolm Rifkind has argued that EVEL was "a nationalist answer to a unionist problem" and weakened rather than strengthened the UK.
But Constitution Committee chairman Lord Lang told BBC Scotland that in his personal view Sir Malcolm was "wrong".
'Unfair to England'
Speaking to the Good Morning Scotland programme, the Tory peer said: "I think it strengthens the union because it puts right the imbalance that exists at the moment" between England and the devolved nations of the UK.
His committee has been examining the impact of EVEL, with its report calling for an extended trial period lasting until at least 2020 - arguing that votes around the Brexit negotiations would provide sufficient "stress tests" for the system.
Lord Lang, who as Ian Lang MP served as Scottish secretary in John Major's Conservative government in the early 90s, said devolution to the other nations of the UK had created an "anomaly whereby England only has Westminster as its sole legislature".
He said it was "felt right across the country that this was being unfair to England.
He added: "This is a modest correction that affects very few bills, but partly because of that it is too soon to form a judgement."
The EVEL system was announced by then-prime minister David Cameron on the morning after the Scottish independence referendum, and was used for the first time in January of this year.
It was introduced in response to calls for a stronger voice for English MPs following increased devolution to Scotland, as well as to Wales and Northern Ireland.
Where parts of a bill are deemed to only affect England, or England and Wales, a new stage is added to the usual law-making process at which only MPs for English - or English and Welsh - constituencies can vote.
'Unifying body'
It is due to be reviewed by the UK government later this year.
But in its report, the Lords Constitution Committee said EVEL should be kept under review with an extended trial period lasting until at least 2020.
The report said: "Parliament is a unifying body at the centre of the political union, where all citizens, regardless of where they live, have the same say in the laws and policies that govern them.
"Using the same institution to provide a separate and distinct role for England could risk undermining parliament's position as a UK, rather than English, institution - a position which is already under threat given the growth of distinct and separate political party systems and political discourse within each of the devolved nations."
Responding to the report, a UK government spokesman said it was "committed to a stronger union and a fair settlement for the whole of the United Kingdom".
He also said the government was taking the committee's comments into account as part of the technical review into the procedures that introduced Evel.