No 'nosedive' in high-end Scots house sales, MSPs told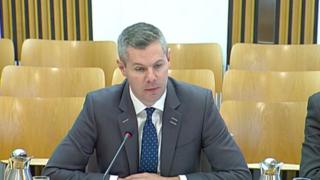 Scotland's stamp duty replacement has not caused a "nosedive" in the higher end of the property market, the finance secretary has insisted.
Holyrood's finance committee pressed Derek Mackay over the impact of the land and buildings transaction tax.
The Scottish Fiscal Commission reported "substantial" growth in many price bands, but only 1% at the higher end.
But Mr Mackay said government analysis had found "no evidence" the tax had suppressed the top end of the market.
While he conceded revenues were "subdued" from the bracket highlighted, the finance secretary said the number of actual transactions was fairly steady.
Official figures show LBTT revenues in 2015-16 exceeded government forecasts by around £44m - but this was caused by a £71m surplus from non-residential properties, offsetting a £27m shortfall from the residential market.
The Scottish Fiscal Commission told the committee that according to government research there had been "substantial" growth in many price bands over the past two years, "except for the £325,000 to £750,000 band, in which there was growth of only 1%".
Transactions 'suppressed'
Tory MSP Murdo Fraser questioned Mr Mackay about whether this had been caused by the stamp duty replacement.
He said: "To put this in context, we're not talking about multimillion-pound houses. We're talking about houses probably in the £400,000 up to maybe £700,000 to £800,000.
"We have heard a lot of evidence as a committee from those working in the sector that they feel there has been a suppression of the transactions.
"As far as the Fiscal Commission are concerned, they are not as bullish as you are or you appear to be in relation to this issue."
Mr Mackay said the shortfall was in part caused by forestalling, sales being reported in an earlier financial year, with "a significant number" of high-value properties brought forward into the 2014/15 year before LBTT was introduced.
He said government analysis had found "no evidence of a long-term suppression of housing transactions at the upper end of the Scottish housing market" since April 2015.
Mr Mackay pointed out that the number of transactions in this bracket had not fallen, but rather revenue driven by house values.
He added: "If the number of transactions at the upper end had nosedived then that argument would have been valid that Murdo Fraser has made, and that's why I've looked into it so closely.
"What I've found is that the number of transactions has been largely sustained as a share of total transactions in Scotland, but values revenue has been more subdued and I would relate that back generally to house prices and house values in Scotland.
"I'm not bullish, I'm just leaning on the facts that I have."
Mr Mackay said the government is committed to reviewing the operation of LBTT rates and bands, and would hold discussions with the sector in November.