'Threats' charge over IndyCamp court appeal papers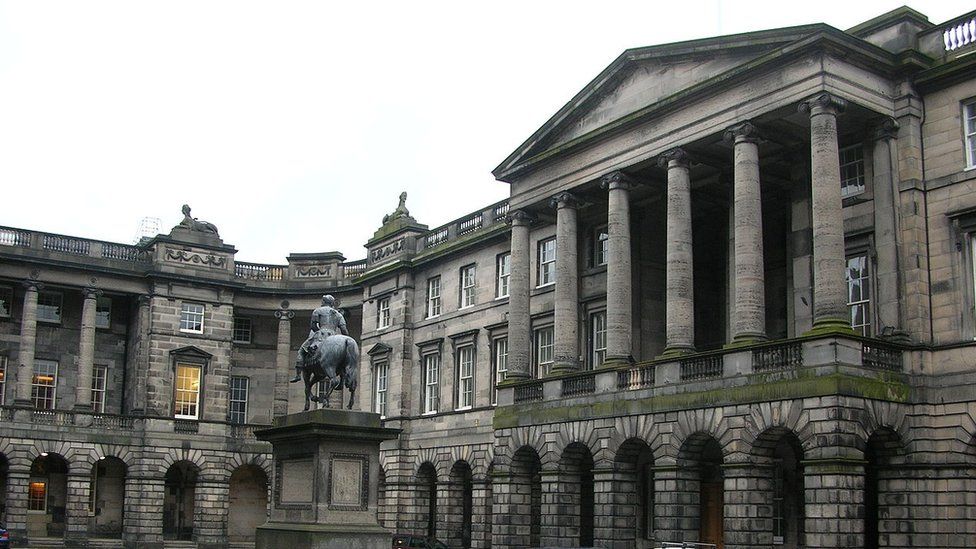 A man has been charged with making threats against the judge in an eviction court case involving an independence camp outside Holyrood.
Stephen Crielly was arrested near the Court of Session in Edinburgh after a hearing in the IndyCamp appeal case.
The 53-year-old subsequently appeared at Edinburgh Sheriff Court on a criminal charge of making threats.
He made no plea or declaration, and was released on bail on the condition he does not try to contact Lord Turnbull.
It is understood the charge relates to a written affidavit submitted as part of the legal battle between the Scottish Parliament's corporate body and the IndyCamp group holding a vigil outside Holyrood.
The affidavit, which has been seen by BBC Scotland, was posted to the court as well as being handed in in person, and includes a call for Scots to "hunt down and execute" Lord Turnbull and the Queen.
Mr Crielly attempted to join the case as a respondent or lay representative on several occasions, but was not allowed to do so.
The case against him was committed for further examination, and he was released on bail on the condition he does not attempt to contact Lord Turnbull or a named court official, or visit certain post offices.
During earlier hearings, affidavits were lodged from a small group of respondents signed "Christ King of Scotland", which claimed that Christ had given permission for the campers to use his land.
They also included claims that the judges were "frauds and have no authority to judge anyone", and are "guilty of capital crimes and under the law should all be executed".
In his written judgement, Lord Turnbull said such submissions could "easily constitute contempt", but said he would take a "benign view" and "leave it to others to comment on the tactical wisdom" of making them.
Other respondents in the case distanced themselves from the affidavits from "Christ" and the group putting them forward in court, instead basing their arguments on human rights law.
Related Internet Links
The BBC is not responsible for the content of external sites.