'Too soon' for indyref2, says former SNP leader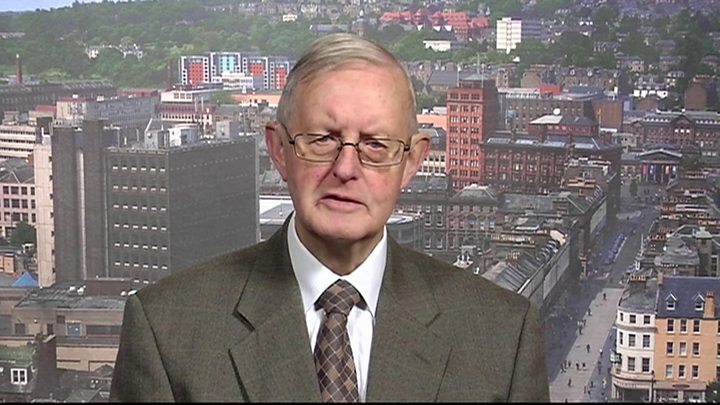 A former SNP leader said he believes a second independence referendum so soon could be a miscalculation.
Gordon Wilson, who led the party from 1979 to 1990, said Scotland needs to be more prepared before it votes again.
He said: "My own view is that a second independence referendum isn't really on."
An SNP spokeswoman said every opinion poll since the independence referendum in 2014 showed that support was higher than the Yes vote.
Mr Wilson told BBC Radio's Good Morning Scotland programme that the question of the budget deficit needed to be addressed first.
He said: "My own view is that a second independence referendum isn't really on."
Mr Wilson said he thinks Scotland needs to "get its expenditure trimmed down to the size a small country would want" and until Scotland has done that an independence referendum is "rather a waste of time".
'Hard-ball tactics'
He added: "The only thing that would change things is if there was a sudden upsurge in the opinion polls from people wanting a second referendum, and more to the point be prepared to vote for independence if Scotland doesn't get what they think it should get.
"I think Theresa May and Nicola Sturgeon and many others, including the European Union, are engaged in hard-ball preparatory tactics.
"In other words they are being brutal about what their targets are and waving a big stick if we don't get that.
"I think what Theresa May and Nicola Sturgeon have in common is, in a way, they are both riding a tiger. That is not easy to do but if you fall off it can be rather drastic."
When asked in what sense they were both riding a tiger he answered: "Theresa May is very hard line in saying there will be a single United Kingdom deal and although there will be consultation, it will be hand-me-down consultation of certain things on which Scotland may have a influence but not essentially an important one.
"She runs the danger of offending Scottish public opinion, and I know that while she has as her aim the target of avoiding Scottish independence, she could talk it up and indeed, as David Cameron found himself in the situation over the pound sterling, the more obstructive and arrogant you are, you are more likely to get a result you didn't want.
"If you look at Nicola Sturgeon, she has to talk tough in order to try and get some increased influence over events. That is perfectly appropriate but the difficulty she has is that in talking tough she might end up with a referendum before she wants one.
The former party leader said the only way you could win over the Scottish people was through time. He said the long-term plan for a vote should be between five and 20 years.
And he criticised former First Minister Alex Salmond's claim that a referendum was a "once in a generation" event.
"The once in a generation statement was quiet nonsensical. Alex Salmond should not have used it because he has no right to do it. It is only the Scottish people who can decide if, and when, they want a referendum.
"Independence is going to come, but it will come at a natural time. For example, the current generation of whom I am a member is essentially British. The good news for the referendum is that that generation, to put it delicately, will move on.
"My main criticism of the SNP at this time is that the party is putting the case for a referendum when they should be putting the case for independence.
"The only thing that counts is the winning of a referendum, not the holding of a referendum.
"There is homework yet to be done, homework that was not done properly in the first referendum, and if you run into a second vote without good reason you could lose."
An SNP spokeswoman said: "Support for the SNP is at historically high levels and every opinion poll since the independence referendum in 2014 shows support for independence higher than the Yes vote.
"Scotland's voice must be heard when it comes to the EU and the SNP Scottish government is committed to doing everything possible to protect Scotland's place in the EU.
"We are also clear that the option of an independence referendum must be on the table if that is the best way to protect Scotland from a hard Brexit."