Boundary changes: Political map of Scotland to be redrawn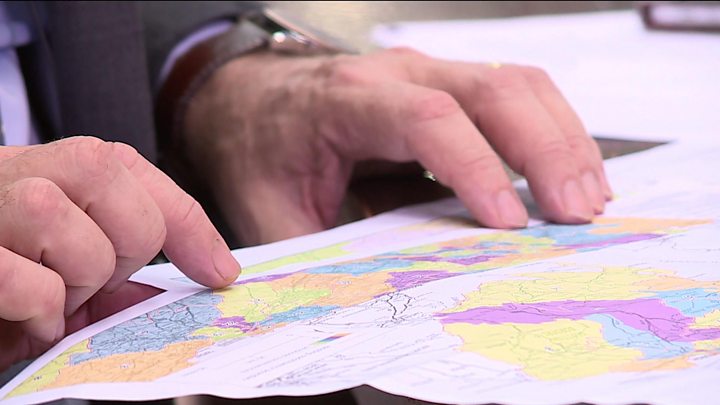 The political map of Scotland is to be almost completely redrawn under plans to cut the number of Scottish seats at Westminster from 59 to 53.
The proposals would see changes to the boundaries of all but three of the existing constituencies.
They could threaten the seats of the only Labour and Conservative MPs in Scotland.
And several SNP MPs could be facing reselection battles as their current constituencies disappear or are merged.
The move forms part of proposals to reduce the total number of MPs in the House of Commons from 650 to 600.
But the proposed boundary changes have been described as "unacceptable" by Labour and the SNP - which won 56 of the 59 seats in Scotland at the last general election.
The plans, which will now go out to public consultation, have been unveiled by the Boundary Commission for Scotland and follow similar reviews in England, Northern Ireland and Wales.
They would see the East Lothian constituency remain untouched, as would the island seats of Orkney and Shetland and Na h-Eileanan an Iar (Western Isles) - both of which are protected by law.
A further 16 seats would have their names retained despite their boundaries changing to some extent.
But elsewhere, 40 sitting MPs will be facing a scramble for only 34 new seats.
Among the proposals are:
Labour's Ian Murray would see his Edinburgh South seat split into the new Edinburgh East and Edinburgh South West and Central seats
The Conservatives' hold on their only seat would be challenged by the abolition of David Mundell's Dumfriesshire, Clydesdale and Tweeddale constituency
Glasgow would see its seats reduced from seven to six - leaving the city's seven sitting SNP MPs facing a game of musical chairs
Former SNP deputy leader Stewart Hosie would see his Dundee East seat largely absorbed into the new Angus Glens and Dundee East
The Highland region reduces from three seats to two, with Ian Blackford's Ross, Skye and Lochaber seat and SNP transport spokesman Drew Hendry's Inverness, Nairn, Badenoch and Strathspey seat largely absorbed into the new Inverness and Skye constituency.
The Boundary Commission for Scotland was required to ensure each of the new constituencies - with the exception of the island seats - has between 71,031 and 78,507 voters and does not cover an area of more than 13,000 sq km (5,019 sq miles).
Only 11 of the existing constituencies, not including the two protected seats, have the required number of voters, while five are above it and the remaining 41 are below.
Lord Matthews, deputy chairman of the commission, said he believed the proposals were a "good implementation" of the rules set by parliament.
He added: "Today is the start of a process, and we now want to hear the views of the public. We will reflect on responses to the consultation and makes changes if needed where the legislation allows us to do so.
"We will be running a number of public events across the country in the coming weeks and hope that voters will make their views heard."
'Undemocratic and unacceptable'
The SNP's new deputy leader, Angus Robertson, criticised the proposed reduction in the number of elected representatives in Scotland.
He said: "At a time when Scotland already faces a deep and growing democratic deficit, with a Tory government that we didn't vote for imposing increasingly right-wing policies against our will, it is vital that the Scottish people have strong elected representation at Westminster to stand up for Scotland's interests and to hold the UK government to account."
Scottish Labour also criticised the new boundaries, with its sole MP Ian Murray - whose Edinburgh South constituency has effectively been split into two new seats - claiming they were "unfair, undemocratic and unacceptable".
He added: "They are based on an out-of-date version of the electoral register with nearly two million voters across the UK missing."
On average, an existing constituency has about 66,000 electors and an area of 1,360 sq km, while the proposed new constituencies have, on average, about 73,500 electors and an area of 1,514 sq km.
Almost two thirds of proposed constituencies are each within a single council area, with no constituencies containing parts of more than two council areas.
The largest proposed constituency by area is Highland North, at 12,985 sq km, while the smallest would be Edinburgh North and Leith, at 20 sq km.
And the new constituency with the most electors would be Moray and Nairn at 78,477, while Clackmannanshire and Stirling North would have the fewest at 71,122.
---
Analysis: Prof John Curtice, Strathclyde University
Given that there is a drop of six seats on the Scottish mainland and given that the SNP have all but two of those, inevitably some SNP MPs are going to lose out.
The truth is that many an SNP MP is certainly going to be involved in a game of musical chairs. A lot of constituencies are proposed to be changed quite radically, but most can probably see a constituency amongst the proposals that they think might be theirs.
But there are five SNP MPs who have particular reason to worry this morning. The best known is Stewart Hosie - the former deputy leader - whose Dundee East seat effectively disappears and is absorbed into a much wider Angus seat.
Ian Blackford - well known inside Nationalist circles and currently the MP for Ross and Skye - the Highlands loses a seat and it is his seat that is most seriously dismembered.
Alison Thewliss, whose seat is in the middle of Glasgow Central - If you are in the middle of a city and a city loses a constituency, your virtually bound to be the one who loses out.
Also finding their seats dismembered will be Roger Mullin in Kirkcaldy and Cowdenbeath - Gordon Brown's old seat - and Marion Fellows in Motherwell and Wishaw.
But it has to be said that we may well find other instances of SNP MPs fighting other SNP MPs, particularly if they think that one of the successive seats for which they both might have a claim looks the better prospect for them in future.
Certainly there is plenty of opportunity for internal strife inside the SNP, but at the same time however, certainly the question that will be facing Unionists this morning is: 'Is it necessarily going to be a good idea to implement a set of boundaries that perhaps might make it even easier for the SNP to sweep the board north of the border?'
---
The consultation on the proposals will run until 11 January 2017. Members of the public and interested parties can get further information and submit views on the commission's interactive portal. A number of public events will also be held around the country.
The changes will also see the number of seats in England reduced from 533 to 501; in Wales from 40 to 29; and in Northern Ireland from 18 to 17.
The Boundary Commissions for England, Northern Ireland and Wales launched their own consultations on the proposals last month.
What are the proposed new constituencies?
Constituency name
Council area
Approximate area (sq km)
Electorate
Aberdeen North
Aberdeen City
105
75,791
Aberdeen South
Aberdeen City
101
74,444
Airdrie South and Shotts
North Lanarkshire
176
73,109
Angus Glens and Dundee East
Angus, Dundee City
1,861
78,156
Argyll, Bute and Lochaber
Argyll and Bute, Highland
10,302
77,754
Ayr and Carrick
South Ayrshire
1,107
77,352
Banff and Buchan
Aberdeenshire
1,760
76,878
Berwickshire, Roxburgh and Selkirk
Scottish Borders
3,999
74,428
Clackmannanshire and Stirling North
Clackmannanshire, Stirling
1,819
71,122
Clydesdale and Eskdale
Dumfries & Galloway, South Lanarkshire
3,755
75,090
Cumbernauld, Kilsyth & Monklands East
North Lanarkshire
187
74,961
Cunninghame East
East Ayrshire, East Renfrewshire
437
71,251
Cunninghame West
North Ayrshire
667
74,566
Dumfries and Galloway
Dumfries and Galloway
4,126
78,093
Dundee
Dundee City
43
76,317
Dunfermline
Fife
236
78,254
East Kilbride, Strathaven & Lesmahagow
South Lanarkshire
403
76,833
East Lothian
East Lothian
701
76,153
Edinburgh East
City of Edinburgh
40
74,009
Edinburgh North and Leith
City of Edinburgh
20
71,541
Edinburgh Pentland and Livingston
City of Edinburgh, West Lothian
226
78,164
Edinburgh South West and Central
City of Edinburgh
37
77,029
Edinburgh West
City of Edinburgh
91
77,738
Falkirk
Falkirk
181
73,839
Glasgow Central
Glasgow City
21
75,718
Glasgow East
Glasgow City
33
75,433
Glasgow North
Glasgow City
38
71,443
Glasgow South East
Glasgow City
21
72,479
Glasgow South West
Glasgow City
32
73,477
Glasgow West
Glasgow City
30
77,803
Glenrothes and Kirkcaldy
Fife
133
71,677
Gordon and Deeside
Aberdeenshire
3,412
74,069
Hamilton and Motherwell
North Lanarkshire, South Lanarkshire
126
78,281
Highland North
Highland
12,985
73,147
Inverclyde and Largs
Inverclyde, North Ayrshire
346
73,965
Inverness and Skye
Highland
9,995
78,220
Kilmarnock, Cumnock and Doon Valley
East Ayrshire, South Ayrshire
1,082
78,431
Kincardine and Angus East
Aberdeenshire, Angus
1,527
76,784
Kinross-shire and Cowdenbeath
Fife, Perth and Kinross
1,609
75,780
Linlithgow
West Lothian
289
78,026
Midlothian and Peebles
Midlothian, Scottish Borders
1,099
76,208
Milngavie and Kirkintilloch
East Dunbartonshire
156
71,594
Monklands West
North Lanarkshire
83
74,263
Moray and Nairn
Highland, Moray
2,612
78,477
Na h-Eileanan an Iar
Na h-Eileanan an Iar
3,269
20,887
North East Fife
Fife
834
76,900
Orkney and Shetland
Orkney Islands, Shetland Islands
2,743
33,229
Paisley
East Renfrewshire, Renfrewshire
102
75,331
Perthshire
Perth and Kinross
3,981
72,831
Rutherglen and Hamilton West
South Lanarkshire
57
76,341
Stirling South
Falkirk, Stirling
733
71,150
West Dunbartonshire & Bearsden North
East Dunbartonshire, West Dunbartonshire
201
77,258
West Renfrewshire
North Ayrshire, Renfrewshire
284
74,958