MP Dave Anderson remains shadow Scottish Secretary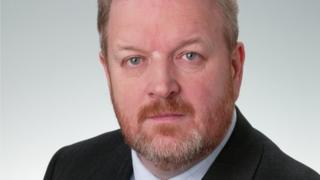 The English MP Dave Anderson is remain as Labour's shadow Scottish Secretary after Jeremy Corbyn's reshuffle.
He took over the role when Edinburgh MP Ian Murray resigned in the summer, calling on Jeremy Corbyn to stand down as leader.
Mr Murray, Labour's only MP in Scotland, has indicated he would only return to an elected shadow cabinet.
Mr Anderson, a former miner who is MP for Blaydon, will also fulfil the role of shadow Northern Ireland Secretary.
He took over as shadow Scottish secretary on 1 July after Ian Murray resigned from the role, citing a lack of confidence in Jeremy Corbyn's leadership.
Labour's UK leader Mr Corbyn told BBC Scotland last month that the door was open for Mr Murray to return to the shadow cabinet if he wanted.