Labour gains North Lanarkshire Council seat from SNP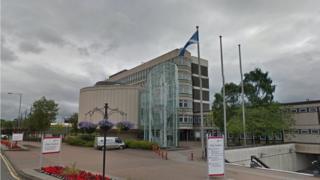 Labour has gained a seat from the SNP on North Lanarkshire Council after a by-election.
Alex McVey took the Coatbridge North and Glenboig seat with 41.7% of first-preference votes, ahead of the SNP's 39%.
The vote was triggered by Fulton MacGregor's election to Holyrood for the SNP in May.
The Conservatives came third on 11.3%, ahead of the Greens on 6% and UKIP on 1.9%. Turnout was 23.67%.
Scottish Labour leader Kezia Dugdale said the result was a "loud and clear message from the people of Coatbridge to the SNP against cuts to local services".
Mr McVey added: "It's a great honour to represent my community, but we cannot go on with cuts to public services from the SNP government in Edinburgh."