Scots Labour MP defends 'autonomy' claim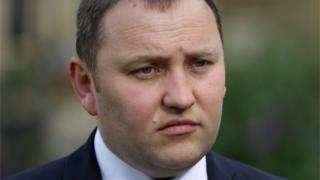 Scotland's only Labour MP has insisted proposed changes will give Scottish Labour "full autonomy" from the UK party.
But Ian Murray admitted the UK party would still be able to overrule the Scottish party on issues such as Trident.
He also said he would only return to Jeremy Corbyn's frontbench team if he reinstates shadow cabinet elections.
Mr Corbyn is predicted to be re-elected as leader on Saturday.
Earlier this week, the UK's Labour Party's ruling national executive committee - the NEC - agreed a plan to give the Scottish Labour Party more decision making power.
The changes, which still have to be approved by the party conference, would devolve control over policy, constituency parties and Westminster candidate selections.
Speaking to the BBC's Good Morning Scotland programme, Mr Murray insisted the proposals would give Scottish Labour full autonomy despite the party still largely relying on funding from London.
He said: "We are about devolution in this party. That is exactly what autonomy is, isn't it?"
When it was put to him by presenter Gary Robertson that "autonomy" meant "independence" rather than "devolution", Mr Murray responded: "No, it is about the UK Labour party and the Scottish Labour party being part of the same unit.
"But the Scottish Labour party having full autonomy over everything that happens here in Scotland from selections right through to policy."
Scottish Labour currently opposes Trident - although its leader Kezia Dugdale supports renewing it.
The UK party remains in favour of renewing the nuclear weapons system - a position not shared by Jeremy Corbyn.
Mr Murray, the former shadow Scottish secretary, was asked what would happen if the UK party put forward a manifesto for a general election that said Trident will be retained - and whether that would also become the official position of Scottish Labour candidates.
He replied: "That is indeed correct because you would stand on the manifesto that you are looking to be elected on."
Mr Murray also said that he personally opposed Trident but had stood at the last two general elections on a manifesto that backed it.
He went on to say Trident was "not a very good example" as it was an issue that was reserved to the UK Parliament, and accused the presenter of "making a mountain out of a molehill."
'Clean slate'
Mr Murray was one of a group of MPs who quit the shadow cabinet after becoming disillusioned with Mr Corbyn's leadership.
He said he "certainly would" return to that post if shadow cabinet elections were restored.
But he added that simply being appointed by Mr Corbyn would "make it much more difficult".
Labour's ruling National Executive Committee has put off a decision on MPs' demand to vote on who should be members of the frontbench team.
But after a divisive leadership contest, Mr Corbyn has pledged to "wipe the slate clean" and work with critics within the party if re-elected.
Mr Murray, the MP for Edinburgh South, said: "He has to stop using de-selection lists in his office. And I think Jeremy should accept those shadow cabinet elections as an olive branch and a way of getting unity within the party."
He said the distinction between being appointed to the shadow cabinet and being voted on to it is "you would be elected by your peers".
Mr Murray added: "If he (Mr Corbyn) doesn't take on shadow cabinet elections he has no intention of wiping the slate clean."
But he also insisted there would be "absolutely no split in the party" if Mr Corbyn was re-elected.