NHS given £9m to ease winter workload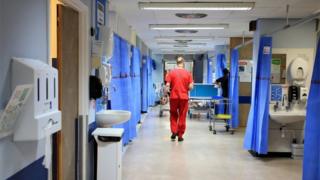 Health boards across Scotland are to be given an additional £9m to help ease the burden on emergency departments over the winter months.
The Scottish government said the aim was for patients get the best treatment in the most appropriate place.
This would prevent unnecessary hospital admissions and free up beds and resources for those who need them most.
Opposition parties questioned why the additional winter funding was lower than last year's £10.7m.
The Scottish government said a recent review of last winter showed accident and emergency waiting times improved despite a rise in admissions.
Respiratory illness
The number of people delayed from leaving hospital was also reduced.
Announcing this year's funding, First Minister Nicola Sturgeon said: "Winter guidance was issued to boards in August and health boards are now well advanced in their unscheduled care planning - putting them on the front foot to build on last year's good performance and deal with additional pressures throughout the coming winter."
She was speaking during a visit to the Royal Infirmary of Edinburgh, which has worked to reduce the number of admissions due to respiratory illness - the most common factor in people attending accident and emergency units in winter.
Scottish Labour's health spokesman Anas Sarwar said: "More resource for our over-stretched NHS is always welcome, but the SNP government should explain why they are delivering less funding for this winter than last.
"Our A&E wards are under pressure all year round but winter will always add even greater strain. Only a third of NHS staff think there are enough of them to do their jobs properly so it is vital that they get the support they need."
Scottish Conservative health spokeswoman Donald Cameron said: "This is another example of the SNP's terrible forward planning coming home to roost.
"There aren't enough staff in these wards, and not enough GPs to prevent people using casualty as a first port of call."
And Alex Cole Hamilton of the Scottish Liberal Democrats said: "SNP ministers are once again applying a tiny sticking plaster in a panic.
"A&E services wouldn't need these annual bailouts if the Scottish government had got a grip of the staffing crisis, properly supported doctors and nurses and provided solid funding for the NHS in the first place."
It comes ahead of a debate in the Scottish Parliament on Wednesday afternoon, which will see the Conservatives argue that the Scottish government has not done enough to prevent a "serious staffing crisis" in the NHS.
Full coverage of the debate will be available on the BBC's Holyrood Live page.