Scottish government calls for Treasury capital spending boost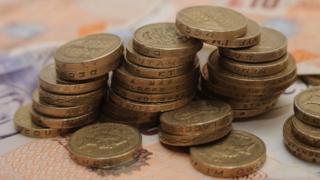 The Scottish government has called on the UK Treasury to increase capital spending to help boost growth in the wake of the Brexit vote.
Economy Secretary Keith Brown said the Treasury should emulate the £100m capital spending pledge announced by the first minister last month.
The Scottish Conservatives said leaving the EU could open up opportunities in areas such as fishing and farming.
And they urged the SNP to focus on making Brexit a success for Scotland.
Mr Brown led a Holyrood debate on the Scottish government's Brexit stimulus package on Tuesday afternoon.
He said an increase in UK infrastructure spending of £5bn could provide an extra £400m spend in Scotland, supporting about 3,000 jobs.
Mr Brown also called for the Treasury to do more to support exporting companies to take advantage of the depreciation of Sterling.
He said: "The Scottish government has acted swiftly to support the economy following the UK-wide vote to leave the EU by bringing forward an additional £100m of capital investment, setting out plans for a £500m Scottish growth scheme to support businesses and working hard to secure Scotland's continued place in the EU.
"We haven't seen the same action forthcoming at a UK level - where clarity on Brexit remains completely absent. However, there are actions the Treasury could take as a matter of urgency to help our businesses.
"Primary among them is increased capital spending that would allow us to build on our own stimulus package, protecting and creating jobs."
'Outstanding successes'
Scottish Conservative finance spokesman Murdo Fraser claimed the Scottish government was only wanting to "sit on the sidelines and complain" rather than be positive about the future and the potential opportunities of Brexit.
UK Chancellor Philip Hammond is to outline his economic response to the Brexit vote in his autumn statement on 23 November.
A UK government spokesman said: "Scotland benefits from being part of a strong, stable, and broad-shouldered United Kingdom.
"Due to the strength of the UK economy, there are 194,000 more people in work in Scotland compared to 2010 - and thanks to UK government, the Scottish government will have 14% or £1.9bn more to invest in Scottish infrastructure via the block grant by 2021.
"The benefits of the UK government's commitment to the Scottish economy are there for all to see and shouldn't be put in doubt through the uncertainty of a second referendum."