Details of Scottish Brexit role 'soon'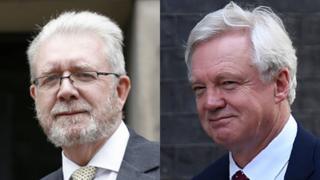 The Scottish minister responsible for negotiating with the UK government ahead of Brexit has said he expects to announce a formal process for Scottish input soon.
Michael Russell was speaking after meeting the UK government Brexit minister David Davis in Downing Street.
Mr Russell told BBC Scotland the meeting - the first between the men in their new jobs - was a "good start".
He said he hoped to win the argument on staying in the single market.
But he warned it was "inconceivable" the UK government could negotiate on Scotland's behalf on devolved issues.
In a joint statement, Mr Russell and Mr Davis said the talks had been positive, with an "open exchange of views".
'Different standpoints'
It added: "While we clearly come from very different standpoints, we both recognise that a good working relationship is vital.
"We agree that Scotland, as well as Wales and Northern Ireland, should be fully involved in discussions about the UK's future relationship with Europe in line with the PM's commitment to a UK approach and objectives for the negotiation.
"Ministers will continue to be in close contact as part of a regular programme of engagement."
The meeting followed Nicola Sturgeon saying on Wednesday that progress over the issue had not been as quick as she would have liked.
Prime Minister Theresa May has previously said she wants the Scottish government to be "fully engaged" in the discussions over the UK's future relationship wit the EU.
She has also said she was willing to "listen to options" for Scotland, and that Article 50 - which would start the two-year negotiation process - would not be triggered until a "UK approach and objectives for negotiations" were in place.
The UK as a whole voted to leave the European Union in June's referendum, but the Scottish government wants to protect Scotland's place in Europe after 62% of voters in Scotland backed Remain.
Ms Sturgeon announced last month that Mr Russell, the Scottish government's former education secretary, would lead its negotiations with Westminster over the country's future relationship with the EU.
Speaking during a debate in the Scottish Parliament on Wednesday, Mr Russell said it was "not good enough" that the prime minister had not made clear her government's plans for Brexit.
And he told MSPs that so far "the message from the United Kingdom government has been both confused and damaging" and that at times "it seems as if a hard Brexit, with all the damage to jobs that would cause, is the desired destination".
'Best deal'
But Mr Russell insisted his objective was to secure the "very best deal for Scotland as well as help to get the very best deal for the UK."
Opposition parties have questioned the SNP government's motives, accusing the first minister of being "obsessed" with using the Brexit vote as an excuse to hold a second independence referendum.
Mr Russell has been given the title of Minister for UK Negotiations on Scotland's Place in Europe, a role similar to that of Mr Davis, who was appointed as the UK government's Brexit secretary by Ms May when she replaced David Cameron as prime minister.
Mr Davis had played a prominent role in the Leave campaign ahead of the referendum,