Scottish business groups call for action after Brexit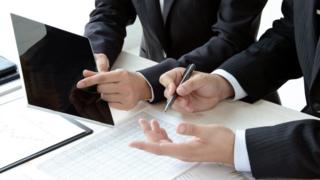 Scottish business groups have stepped up pressure for action from governments following the vote to leave the EU.
The Scottish Chambers of Commerce has published a survey of members showing they favour a business rate cut to boost the economy.
Of the 677 members responding to a survey last month, 47% favoured that over a cut in VAT or in corporation tax.
The VAT and corporation tax options gained support from more than 35%.
Liz Cameron, chief executive of the Scottish Chambers, said: "The Scottish economy was faltering even before June's EU referendum and the result has sparked another period of uncertainty.
"Businesses, however, are clear in terms of the support they need and the expectations they have of the Scottish and UK Governments at this time.
"A reduction in business rates would deliver a clear boost to a wide spectrum of businesses, reducing business costs and freeing up resources to invest for future growth."
Foreign workers
She added: "This is an area where the Scottish government has the powers to deliver for Scottish business and with a rates revaluation coming up in just seven months, the timing could be perfect to provide a boost to Scotland's businesses.
"The UK government can also play a part by targeting reductions in VAT, which is a particular priority from Scotland's tourism sector, and by continuing the recent downward trend of corporation tax rates."
Chamber members set out their government investment priorities as vocational training, roads, digital telecoms and housing.
Similar demands were being made by the digital industries, including pressure on the UK government to retain access to European markets and foreign workers.
Trade body ScotlandIS is pushing for more to be done to boost productivity. It says its sector's knowledge of improved business process could be vital to that, including use of data to boost market intelligence.
The industry group wants to retain access to markets, people, research and universities, while boosting skills within Britain. It said the lack of access to skills if Brexit chokes off migration is "a serious challenge".
In a survey of ScotlandIS members, carried out in early July, 75% of respondents said they anticipated a negative impact on consumer confidence, and as many on their export growth. About 22% said they would consider relocating their businesses outside the UK.
'Decisive action'
Nearly half of those responding (which totalled quarter of the membership) told ScotlandIS the vote would worsen the business environment in the next 12 months, and 16% said it would improve.
Since then, much of the evidence about consumer behaviour has been barely changed by the Brexit vote. But business sentiment about the future of the economy remains much more downbeat.
Polly Purvis, of ScotlandIS, said: "Businesses in Scotland's digital technologies sector are looking for decisive action that will reduce economic and political uncertainty, protecting sales and customer confidence.
"In particular, they want reassurance and certainty about the future status of EU citizens working in the UK and vice versa."
Earlier this week, a survey in CA Magazine, published for members of the Institute of Chartered Accountants in Scotland (Icas), confirmed the gloomy outlook from boardrooms.
The survey of 100 senior finance directors found that 45% predict the economy will shrink in the next 12 months, up from 6% last year.
Red tape
A further 41% think growth will be flat or negligible for the remainder of this year. The most pessimistic were those running larger companies, and uncertainty surrounding Britain's relationship with the EU was the main reason given.
That survey highlighted priorities of maintaining access to the EU's jobs market. They see that as more important than the UK securing a free trade agreement with the rest of the EU, or access to the single market.
Anton Colella, chief executive of Icas, said: "British business relies on Europe for its talent pool. The freedom to hire and retain talented people from around Europe must be a crucial part of the government's Brexit negotiations.
"We are already hearing anecdotal evidence that some EU Nationals may be thinking about moving their careers out of the UK. This is a key risk to British business and one that the government needs to address."
Of the finance directors, 23% were considering a delay or cut in investment in the UK, 14% were considering a cut in jobs and a further 9% were already cutting staff numbers. Some 15% were thinking of transferring some activities to other parts of the EU.
More than quarter believe that Brexit could bring business opportunities, but only a fifth thought it would bring a reduction in red tape.