Scottish ministers set out planning reform moves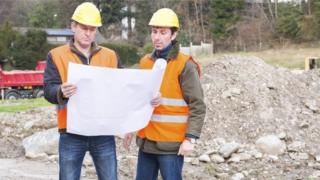 The Scottish government has outlined 10 "immediate actions" which it says will help deliver more homes and speed up the planning process.
It follows an independent review which urged a "fundamental rethink" of Scotland's planning system.
The actions include introducing pilot Simplified Planning Zones for housing.
They also include extending permitted development rights - where planning permission is not needed - to more types of development.
The review panel, which was set up in September 2015, set out 48 recommendations which it said would strengthen the planning system to "enable sustainable development".
It included Crawford Beveridge, chairman of the Scottish government's council of economic advisors, John Hamilton, a former chairman of the Scottish Property Federation, and Petra Biberbach, chief executive of Planning Aid for Scotland.
The planning process had come in for criticism from Scottish housebuilders and developers over the amount of time taken by councils to reach planning decisions.
---
"Immediate actions" identified by the Scottish government include:
Help local authorities to strengthen their skills and capacity for housing delivery in the short term through a range of measures, "including financial assistance where appropriate"
Finalise the draft advice on planning for housing and infrastructure delivery, including "a clear definition of effective housing land which will be consistently applied within the current system"
Work with Heads of Planning Scotland to identify how permitted development rights could be extended
Take forward pilot Simplified Planning Zones for housing
Consult on enhanced fees to ensure that planning authorities are better resourced
---
In its initial response to the review panel's report, the Scottish government said it would develop proposals for further reform of the planning system over the coming months and bring forward consultation proposals by the end of the year.
It intends to bring forward a new Planning Bill to the Scottish Parliament in 2017.
Planning Minister Kevin Stewart said: "It is clear from the recommendations of the independent panel, and the feedback from local authorities, developers and communities, that our planning system can do more for Scotland.
"I firmly believe that Scotland's planners can lead the delivery of great places, empower communities and provide a stable environment for investment through the uncertain times we live in.
"I welcome the positive report produced by the panel and am impressed that public and private interests in planning are willing to work together and with government to make changes happen."
He added: "We must now work together to ensure our planning system is best placed to support economic growth and housebuilding, whilst protecting and enhancing the quality of life of all our communities."