Brexit: Politicians hold meetings to reassure Scottish businesses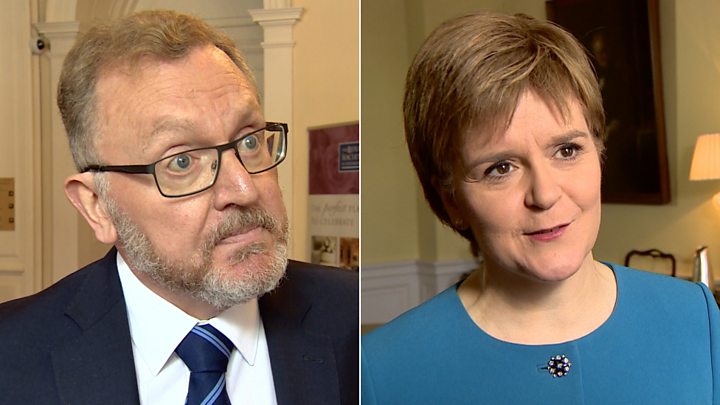 Nicola Sturgeon has urged business leaders to map out a "united response" to the EU referendum result.
In a key meeting with the business community, the first minister warned about "significant uncertainty" in response to the Brexit vote.
In separate talks, Scottish Secretary David Mundell said business wanted the UK and Scottish governments to work closely as part of a "Team UK".
The UK backed leaving the EU, but in Scotland 62% voted to remain.
At her meeting with representatives of groups including the CBI and the Institute of Directors, Ms Sturgeon said it was vital that Scotland was known as a good place to do business.
She said: "Clearly there is a period of significant uncertainty and the risk of a significant impact on the economy ahead of us."
Ms Sturgeon again highlighted her "determination to find a way of protecting Scotland's place in the European Union", but also said: "I'm very keen to work with the business community to get a message out there across Scotland, the UK and Europe as a whole that Scotland remains open for business and we are a good place to do business."
Scottish exports
Last week she held a series of meetings with senior EU officials after pledging to do all she could to protect Scotland's position in Europe.
David Williamson from the Scotch Whisky Association said the Brexit vote had caused uncertainty and raised fundamental questions about future trade.
He said: "How do we approach our international trade deals? Do we need to renegotiate those deals or can we put in place mechanisms to allow the commitments and benefits we already have to be secured going forward?
"We had a very clear message today to make sure we have the best possible access to the single market as well as making sure that the trade deals we have are being kept in place."
Chief executive of the Scottish Chambers of Commerce, Liz Cameron, said she was "encouraged by the commitment shown" by the Scottish government to engage with the business community.
Meanwhile, Mr Mundell set out the UK government's plan to create a specialist EU unit to tackle issues like trade treaties and legal agreements when he met business leaders.
He said: "The overwhelming message from this morning is that Scottish businesses want the UK and Scottish governments to work closely together as part of a 'Team UK' to find a constructive way forward."
He later told the BBC: "I very much hope that we don't have a recession situation - we obviously are going to have a period of uncertainty, a period where people will not be keen to invest and projects that may have been going ahead in this period being put on hold.
"That is why it is important to bring as much certainty as we can in as short a timescale as we can."
'Inhumane aspects to all of this'
The first minister also hosted a group of diplomats representing EU countries at Bute House to discuss how the Scottish government could provide further reassurance to all EU citizens living in Scotland.
She branded as "inhumane" the UK government's failure to guarantee the rights of EU citizens living in Scotland to remain following the Brexit vote.
Ms Sturgeon insisted that people from other countries who had come to the UK and made their lives here "shouldn't be used as a negotiating chip in a wider discussion with Europe". The SNP leader said Britons living in Europe were also facing similar anxieties.
She explained: "People in both directions that have chosen to live in other countries across the European Union are making contributions, they've built their lives, they shouldn't be used as some kind of negotiating chip, and that is the inhumane aspect to all of this."
Alison McGregor of CBI Scotland Chair said she welcomed the first minister's comment on EU nationals living and working in Scotland.
She added: "The Scottish government should be closely involved in the UK government negotiations with the EU to help get the best deal for Scottish companies - and business stands ready to play its part too.
"Companies need access to the single market, trade deals and skills."