Scottish government 'not prejudging' post-Brexit options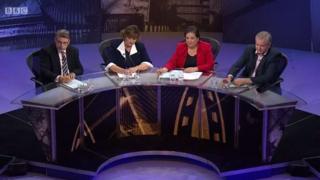 The Scottish government is "not prejudging" options for Scotland's future after the Brexit vote, a minister has insisted.
External Affairs Secretary Fiona Hyslop said the government would look at "all options" carefully.
But Tom Harris of the Scottish Vote Leave campaign accused the government of "trying to engineer a second independence referendum".
The pair clashed on a BBC Scotland debate about Scotland's future.
Ms Hyslop and Mr Harris were joined by Tory MSP Adam Tomkins and Labour's Jackie Baillie as part of a live studio discussion, chaired by Glenn Campbell.
Mr Tomkins said the "difficult" Brexit negotiations would "take a very long time".
Ms Baillie was pressed on whether Labour would back a second referendum, and said that while the party has a manifesto commitment to not backing another in the current Holyrood term, she wanted to "keep all our options on the table".
In Scotland, voters backed Remain by 62% to 38%, while across the UK Leave won by 52% to 48%.
This has led to suggestions of a second Scottish independence referendum, which First Minister Nicola Sturgeon has said is "highly likely"..
However, a second independence poll has been opposed by others, including Scottish Conservative leader Ruth Davidson, who said it would be "destabilising".
Ms Hyslop refuted Mr Harris's claims that the government was "engineering" a second independence referendum.
She said the government was carefully considering all options, only one of which was independence.
"The fair and honest thing to do, and the responsible thing to do, is to make sure we can look at any option that's available," she said. "I'm determined that we will defend Scotland's interests and make sure that Scotland's voice is heard."
'Sold on a lie'
However, she later said Scotland was "better equipped" for a second independence referendum than it was in 2014.
Citing the UK's reduced credit rating and proposed tax changes, she said "we will be better equipped because we've done the preparations for what's required".
Mr Harris meanwhile conceded that the Leave campaign's claims about an extra £350m a week being available for services in the UK post-Brexit were "probably" a mistake, insisting that he was only responsible for the campaign in Scotland.
Ms Baillie said the claims had "disappeared along with the bus", referring to the group's campaign bus which bore the figure, while Ms Hyslop added: "The Leave campaign was sold on a lie, and that was the biggest one."
Mr Harris instead highlighted a different figure, of the net £1bn he said the Scottish Parliament would get back in the event of Brexit.
The panel members were united in saying EU nationals living in the UK should be allowed to stay, regardless of the terms of the UK's exit deal.
Defence Secretary Philip Hammond had earlier said it would be "unwise" to "guarantee" EU citizens' rights without a deal for Britons who live abroad, while Tory leadership candidates are split on the issue.
But Mr Harris said there was no threat to the legal status of EU nationals, saying there was "absolutely no law that suggests they could ever be sent back". He said Theresa May's claim otherwise was a "cynical manoeuvre" as part of her leadership campaign.
Mr Tomkins, who announced he was backing Michael Gove for the Tory leadership, also said Ms May was making a "mistake" with her stance. He said EU nationals living in the UK should be allowed to stay "indefinitely".