Scottish UKIP MEP David Coburn 'sad' at Farage resignation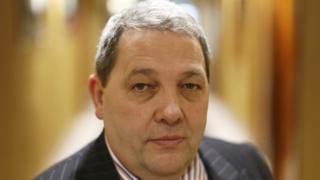 Scotland's only UKIP MEP David Coburn said he was saddened at news that party leader Nigel Farage was to resign.
However, he told the BBC that his fellow member of the European Parliament would want a "rest" after a successful referendum campaign.
On 23 June, the UK voted by 52% to 48% to leave the EU after 43 years.
Mr Coburn would not be drawn on whether he would want to lead UKIP, saying only that he would "not" be joining the Conservative leadership contest.
In an interview with BBC Radio Five Live, he said: "It's a sad day. But you know he has to have a rest. It's a big party.
"We're evolving. We change and whatever.
"We've done our job but we continue to do it.
"[Nigel Farage] He'll still be leading us in the European Parliament."
Mr Coburn was voted a member of the European Parliament in May 2014.
He lobbied for Brexit north of the border ahead of the referendum less than two weeks ago.
Although the UK as a whole backed ending membership of the EU, people in Scotland voted by 62% to 38% to remain a member.