New Scottish property tax raises more than expected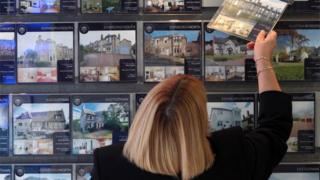 The first set of receipts from new Scottish property and landfill taxes have exceeded predictions, the Scottish government has said.
Finance Secretary Derek Mackay told MSPs £572m was collected in 2015/16 - up about £74m on initial forecasts.
Scotland's Land and Buildings Transaction Tax (LBTT) and the Scottish Landfill Tax (SLT) were introduced last year.
Mr Mackay said the figures were "very positive".
The LBTT was introduced in April 2015 by the former finance secretary John Swinney.
It replaced the UK-wide stamp duty and raised the threshold at which buyers paid no tax on a property to £145,000.
How different is the new Scottish property tax system?
Scotland
Rest of the UK
Up to £145,000: 0%
Up to £125,000: 0%
£145,000 - £250,000: 2%
£125,000.01 - £250,000: 2%
£250,000.01 - £325,000: 5%
£250,000.01 - £925,000: 5%
£325,000.01 - £750,000: 10%
£925,000.01 - £1,500,000: 10%
£750,000.01: 12%
£1,500,000.01: 12%
Mr Mackay said: "We introduced the Land and Buildings Transaction Tax last year with the particular aim of helping first-time buyers enter the property market.
"Almost 9,700 additional house purchases were taken out of tax altogether in 2015-16 and more than 41,600 buyers paid less than they would have under UK stamp duty.
"Today's figures show we not only supported first-time buyers, we also generated around £74m more in revenues from the two devolved taxes than we originally expected.
He added: "In light of current events, it is even more important now the Scottish government continues our competent handling of the economy with our approach of stability, certainty and proactivity."