Fergus Ewing calls for drop in Scotland's BSE risk status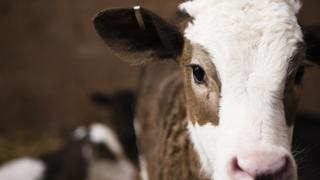 Scotland should be in a separate risk category for so-called mad cow disease than the rest of the UK, according to the Scottish government.
The last animal born with bovine spongiform encephalopathy (BSE) north of the border was in 2005.
Scotland can now apply to the World Organisation for Animal Health (OIE) for "BSE negligible risk" status.
Scottish Rural Economy Secretary Fergus Ewing said the move could boost Scotch beef exports.
Speaking at the Royal Highland Show in Edinburgh, he said the government would launch a formal consultation on the proposal later this summer.
'Potentially massive'
Mr Ewing added: "Our premium produce is world-renowned but there are countries to which we are currently unable to export Scotch beef and Scotch lamb.
"Achieving BSE negligible risk status could help open up markets across the world for these premium products, and potentially reduce waste and inefficiencies in the supply chain worth more than £1m.
"The USA is already on the cusp of resuming beef imports from the UK while the Canadian market is now open for both beef and lamb.
"The opportunities for exports and producer incomes are potentially massive and it is imperative that Scotland is ahead of the game in promoting our iconic red meat brands."
The move was welcomed by NFU Scotland, which said the Scottish beef industry had moved on since "the dark days of BSE".
A spokesman added: "Considerable time and effort has gone in to rebuilding markets both at home and abroad.
"A clean bill of health for many years means there is a justifiable case for any lingering rules around export to be lifted so that all nations can enjoy our world-famous Scotch beef."
The UK is currently recognised as having a "controlled BSE risk" by the OIE.
Incidences of the disease have reduced to just a handful of cases a year in the UK - none of them in Scotland - since the height of the health crisis in the early 1990s when there were tens of thousands of diagnoses annually.
BSE causes a lack of co-ordination and increased aggression in cattle, leading to it being labelled "mad cow disease".
'Fair share'
It can be passed on to humans in the food chain, causing a fatal condition called new variant Creutzfeldt-Jakob disease (nvCJD)
The OIE permits a country or region to apply for negligible risk status if they have a surveillance programme, a control strategy and no new BSE births in the preceding 11 years.
Mr Ewing also called on the UK government to allow Scotland a "fair share" of the UK's red meat levy.
The cash is currently allocated to promotional bodies on the basis of where an animal is slaughtered - not where it was raised.
Many animals raised in Scotland go to abattoirs in England and Wales but the rural economy secretary said if system was changed, it could allow Quality Meat Scotland to invest an extra £1.5m a year in the sector.