Ex-Lib Dem leader Lord Campbell urges Brexiters to tone down language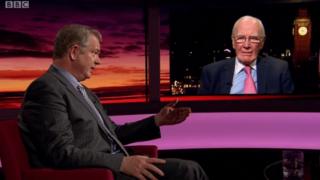 A former Lib Dem leader has called on campaigners for Brexit to tone down their language on immigration for fear of permanently damaging race relations.
Lord Menzies Campbell believed it was right to highlight the positive benefits migrants bring to the UK.
But Leave backer Tom Harris dismissed the criticism saying his focus was to make positive changes about employment.
Voters throughout the UK will go to the polls on 23 June to decide on Britain's future membership of the EU.
Lord Campbell, head of the European Movement in Scotland, was speaking on the BBC's Scotland 2016 programme alongside Mr Harris who is director of the Scottish Vote Leave campaign.
He said: "As the Remain side, we must robustly seek to promote the benefits that migrants from other parts of the EU have brought to the UK.
"We know that they make a major contribution to the economy, as well as socially and culturally, and what we are seeing is a deliberate stoking-up of fears and prejudice in a desperate attempt to boost support for Brexit."
Lord Campbell claimed the tactics being used by Brexit campaigners were similar to those being used by Republican presidential candidate Donald Trump about immigration.
He told the BBC: "To counter this we need to go on the offensive and highlight the positive benefits that migrants bring to this country.
"The language we are hearing is extremely ugly and the danger is that race relations in this country will be permanently challenged if the positive case is not set out and the rhetoric toned down, whatever the result."
However Mr Harris said he wouldn't "get into the gutter with Ming Campbell" and that his criticism was a "smear".
The pair were debating in light of Leave campaigner and Tory MP Michael Gove saying it would be "for Scotland to decide" on immigration numbers to the country after a British exit from the European Union (Brexit).
That was dismissed as a "fib and a half" by Scotland's First Minister Nicola Sturgeon.
Mr Harris explained the context of Mr Gove's statement by saying: "There are extra powers that the Scottish Parliament will get when we leave the EU, of course fisheries and agriculture.
"What we are saying here is not about immigration powers it is about work powers, it is about employment.
"Now when Jack McConnell was first minister there was the fresh talent initiative so there is a precedent for the Scottish Parliament in co-ordination with UK ministers, taking some of those powers to benefit the economy."