Scotland education: Councils warn over 'hasty' school reforms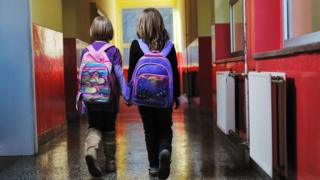 Councils have warned John Swinney that "hasty" changes to the country's education system "could do irreparable damage for future generations".
Local government body Cosla urged the education secretary to "proceed with caution" .
It came ahead of Wednesday's Scottish government summit on school reform and raising attainment.
The SNP has said it wants to "encourage school clusters and create new educational regions".
Its manifesto for the recent Holyrood election also pledged to "extend to individual schools responsibilities that currently sit solely with local authorities, allocate more resources directly to headteachers and enable them to take decisions based on local circumstances".
Cosla's education spokeswoman, councillor Stephanie Primrose, defended the education service delivered by councils.
'Future generations'
She said: "The aim of central government, local government and all those with an interest in young people is the same, we all have similar aspirations, we all want them to succeed.
"There is plenty to be celebrated within the Scottish education system and to proceed in a hasty manner could do irreparable damage for future generations."
She said Scotland's local authorities were willing to play their part to tackle the "room for improvement in the system" and warned against treating "any aspect of a child's development in isolation".
She added: "Right now, if a child needs extra support, the council is there for them with all the services and expertise that is required to make a real difference.
"We will improve attainment of children in poverty only by supporting the whole family.
"Councils are uniquely-placed to support every need of the child due, in no small part, to the expertise and professionalism of all their employees who make a difference to families every single day."
'Best possible chance'
Mr Swinney said the Scottish government was "committed to working with partners across the board and drawing on their expertise to give Scotland's children the best possible chance in life".
He added: "We welcome the acknowledgement from Cosla that there is room for improvement in the system and we are drawing from the knowledge of teachers, pupils, local authorities, education experts, political leaders and others to look at how we can move forward together.
"The summit will also look at how we can best engage with communities and work with parents, community groups and others towards the common goal of raising attainment and closing the poverty-related attainment gap.
"We must go further and faster to make the substantial progress that is required during this parliamentary term to implement the mandate the government received at the election."
Mr Swinney pledged at the weekend to reduce teachers' workload after the country's largest teaching union, the EIS, moved a step closer to strike action over changes to the country's exam system.