Scottish government China deal correspondence released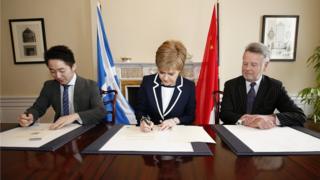 The Scottish government has published correspondence relating to a £10bn memorandum of understanding Nicola Sturgeon signed with Chinese firms.
The papers, released after a freedom of information request, detail the background of the investment agreement.
Ms Sturgeon came under fire from opposition MSPs over transparency and one of the firms involved in the deal.
Economy Secretary Keith Brown said the papers proved that the government had "acted in good faith" throughout.
The first minister signed the memorandum with SinoFortone and China Railway No. 3 Engineering Group at Bute House in March. However it did not come to light until April, after reports surfaced in the Chinese press.
The newly-released papers show that draft press statements were passed back and forth, including supportive quotes from RBS and Brian Souter, but these were never released.
In correspondence included in the papers, staff say no announcement was made because "it was the end of term and there was a lot going out of the door", and "we simply didn't want it to get lost among all of the other announcements that week".
'Major scale investment'
Ms Sturgeon has insisted throughout that no firm deals have been done over actual investment projects, saying proper due diligence will be done if such offers do come forward.
While projects in Falkirk and Fife are repeatedly referenced, at several points aides refer to the memorandum as being "not site specific".
However, studies had been carried out of potential housing sites and advice had been given to the firms about industry and infrastructure.
One email, sent in the weeks before the memorandum was signed, says Ms Sturgeon had given the Chinese firms "confidence that we are ready for major scale investment".
Opposition politicians questioned transparency around the deal, as well as raising concerns about a parent firm of China Railway which was blacklisted by Norway's pension fund amid fears of "gross corruption".
The correspondence shows discussion of removing China Railway from the memorandum and press releases.
Sections were also redrafted to remove any suggestion that Chinese labour or steel would be involved, with one email noting "there is absolutely no presumption of use of Chinese steel - indeed we would always press for use of Scottish steel in any infrastructure project in Scotland".
The deal has already been raised in the new session of the Scottish Parliament, with Lib Dem leader Willie Rennie lodging 28 questions about it on the first day of term.
'Devastating revelations'
In a chamber debate about the economy, Mr Rennie said it was now clear that aides had tried to "Tippex" China Railway out of the deal after "devastating revelations" from Norway's pension fund and Amnesty International, which he said had "condemned" the firm.
He said "no due diligence" had been done on the company before the memorandum was signed, and said the Scottish government should be "embarrassed".
Meanwhile, Scottish Conservative MSP Alex Johnstone said the SNP had "dodged and weaved for weeks" over the deal.
He said: "Finally when forced to publish the facts, the SNP blames opposition parties for asking questions. It's classic SNP: duck scrutiny and then go on the attack when challenged."
And Scottish Labour said the SNP had "misled people" about Mr Souter's involvement in the deal, with Jackie Baillie calling for a parliamentary statement from Mr Brown and an investigation by the Economy Committee.
'Unfounded assertions'
Mr Brown said the papers "show how misguided opposition politicians have been" about the China investment memorandum, "exposing their assertions as unfounded".
He added: "It is clear that while all potential investment has to be considered carefully, opposition parties should be wary about deterring potential investment.
"The full set of papers we are releasing shows the approach taken by the Scottish government to potential investment in Scotland was entirely appropriate throughout the process.
"The papers confirm that the interest from Chinese investors with the potential of up to £10bn of investment in a range of private and local authority projects was serious and credible, but that discussions remain at an early stage, with no specific projects or any investment whatsoever agreed."