Education secretary pledges to reduce teacher workload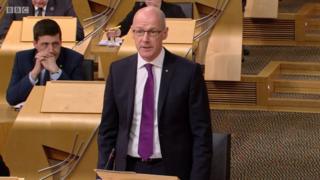 Scotland's new education secretary has pledged to reduce teacher workload in the government's bid to improve attainment in schools.
John Swinney said tackling the attainment gap would be the "driving purpose" of his tenure.
He wants to remove unnecessary duplication in assessments and expand subject-specific support for teachers.
Mr Swinney was speaking as MSPs from across the Holyrood chamber outlined their priorities for the coming term.
First Minister Nicola Sturgeon has underlined education and the economy as the two key priorities of her government over the next five years.
During his speech, Mr Swinney said he had asked Bill Maxwell, the chief inspector of education in Scotland, to immediately write to schools with "clear guidance" on national expectations on qualifications and assessment to reduce "unnecessary workload" on teachers.
'Significant concerns'
Mr Swinney, who is also the deputy first minister, said he would meet with Chief Examiner Janet Brown on a monthly basis.
He said Ms Brown had already confirmed that the Scottish Qualifications Authority had committed to doing "everything possible" to reduce workload without impacting on qualifications.
He said: "Closing the attainment gap and improving attainment across education in Scotland - in other words the pursuit of equity and excellence - will be the driving purpose of my tenure as education secretary.
"One of the significant concerns I have heard is about teacher workload as a consequence of change within the education system.
"I am going to act today to reduce that workload as my first step to improving the performance of Scotland's schools."
Tory MSP Murdo Fraser was among the opposition politicians to welcome the announcement on teacher workload, but he hit out at the government's record over the economy.
Mr Fraser said the economy performed poorly last year, with unemployment worse in Scotland than the rest of the UK, and said Scottish ministers must take some responsibility for this.
Labour's Mark Griffin said there was no future for Scotland as a low-skill, low-wage economy, and urged investment in science skills for the high-tech industry.
He said the SNP government had three key issues to address - the "stubborn" attainment gap, barriers to women in science, and cuts to colleges.
Industrial action
Scotland's largest teaching union, the EIS, also welcomed Mr Swinney's recognition of the need to streamline SQA assessment procedures.
But it warned that the measures he outlined would not be enough to reduce the "excessive assessment burden" on pupils and teachers.
The union also said its ballot for industrial action over the assessment requirements of National Qualifications would continue, and that it would continue to call for teachers to vote in favour of industrial action.
But it said it remained willing to hold talks with Mr Swinney and the SQA in an attempt to agree further measures to reduce assessment-related workload in the hope that industrial action could be avoided.