Kenny MacAskill: Lockerbie release pillory 'suited' US and UK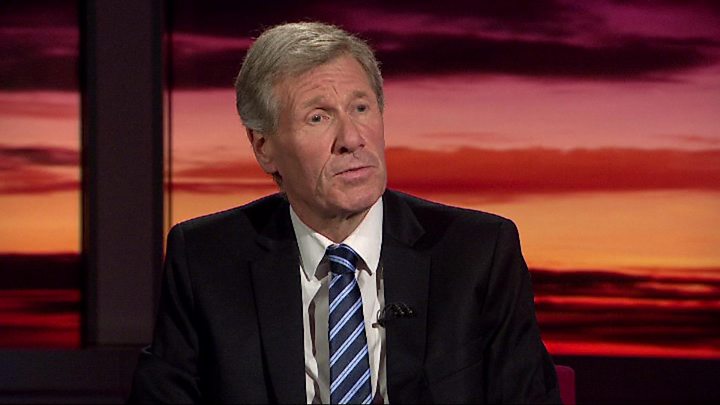 Scotland's former justice secretary Kenny MacAskill said it suited both the US and UK to pillory him for releasing the Lockerbie bomber.
Abdelbaset Ali al-Megrahi was convicted of killing 270 people when Pan Am Flight 103 was blown from the skies above southern Scotland in 1988.
After being diagnosed with terminal cancer, he was released by Mr MacAskill in 2009.
The retired SNP MSP spoke to the BBC about the criticism he received.
Mr MacAskill said he "no doubt" had made "many mistakes" but he did not regret visiting al-Megrahi at Greenock Prison and subsequently allowing him to return to his home country of Libya on compassionate grounds.
The politician was elected to Holyrood in 1999 and served as its justice secretary between 2007 and November 2014. He stepped down from frontline politics at May's Scottish Parliament election.
Mr MacAskill has been recounting his dealings with the Lockerbie case in a book to be published this week called "The Lockerbie Bombing: The Search For Justice".
He told BBC Radio Scotland's Good Morning Scotland programme that al-Megrahi had played a part in the atrocity which saw 259 people on board killed, along with 11 people on the ground.
However, he said he believed the bomber to be a "foot soldier" and that his conviction might have been viewed as unsafe.
'Acted shamefully'
Mr MacAskill's criticisms were levelled at the "state-sponsored terrorism" he claimed had led to the "devastation" of the town of Lockerbie.
He said: "Scottish justice found itself put on trial. I believe all those in Scotland - whether police, prosecution, courts or in the health service - acted diligently and with integrity. But what happened was a world out there, especially countries such as the UK and the USA, acted shamefully.
"It suited them to pillory myself and Scotland at the same time as they were conniving with Colonel Gaddafi, when they had been involved with shoring him up before they tore him down with spectacular consequences for commercial and military interests."
After Mr MacAskill sanctioned the release of al-Megrahi he was heavily criticised by some of the victim's families.
However, he insisted that "irrespective" of what a convicted prisoner has done they have a "right to die with some dignity".
Mr MacAskill also spoke to the BBC's Scotland 2016 programme.
He outlined key questions that needed answering and why the issue was much bigger than the terrorist act itself. His points included;
what was going on in commercial deals done with Gaddafi?
what was going on in the security world at the time?
Scottish courts do not have the power to compel the US Pentagon to give evidence
and if justice was to be pursued, then it had to be done as an international inquiry and not by a Scottish court