Nicola Sturgeon's cabinet choices reveal her priorities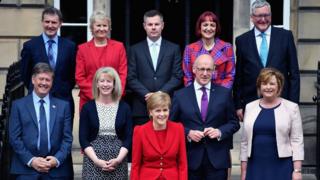 To govern is to choose. Politics is the language of priorities. One should avoid cliches like the plague.
Had enough now? Thought so.
These opening sentiments are, of course, prompted by Nicola Sturgeon's Cabinet reshuffle. Actually, where are my manners, congrats all round to those retained and those promoted. Sympathy for those departing and those yet to arrive.
Ms Sturgeon's changes are driven, de facto, by choice. But those choices are informed and led by the priorities previously announced by the first minister.
She said she would accord top billing to education or, more precisely, to the attainment gap which seemingly persists to the detriment of those from less privileged backgrounds.
Such a statement argued for the deployment of a senior member of her team. Step forward John Swinney, her deputy.
'Cunning diplomacy'
Mr Swinney has, by common consent, been a success at Finance, most notably during the years of minority government when he contrived to steer budgets through Holyrood by dint of persuasion and cunning diplomacy.
More recently, he bargained hard in another arena, sorting the Fiscal Framework with the UK Government which accompanied the transfer of new powers.
It was hideously complex, minutely detailed and impervious to easy explanation. I loved every minute - but that's just me.
Perhaps, after scaling such heights, the annual spending round would seem tame by comparison. More obviously, Ms Sturgeon has signalled that she is determined to effect change in education by sending in her biggest hitter.
Incidentally, the talk in government circles is that reform in the sector will be substantial. That ministers fully intend to implement manifesto plans for more direct funding of schools and more involvement of parents.
Then there is another priority. The economy which, in practice, is always top of any government list, at least in times of peace.
Ms Sturgeon has repeatedly stated that there can be no progress on public services without a sound and growing economy. The signs in Scotland, currently, are less than propitious with rising unemployment and relatively sluggish growth.
Plus Holyrood has gained big new tax powers. That argued for the change the FM announced today - with Mr Swinney's old remit split into two.
Keith Brown tackles the economy. Derek Mackay, a cabinet newcomer, takes over finance, including those tax powers. As I disclosed earlier, he has already begun a programme to minimise cost and maximise efficiency in the working of the Scottish civil service.
Partly, that is to make government work better - to break down silos and ensure cross-departmental working. Partly, it is to release much-needed cash, particularly since the responsibilities of the Scottish Government have become much bigger, costing more to run.
In line with those extra powers, Angela Constance - who faced some persistent criticism at education - moves to take charge of the new welfare remit. Again, driven by priorities. This will be a tricky challenge: balancing the desire to help those in need with the requirement to constrain spending.
Climate change
And then a further priority. The Scottish government set themselves significant new targets on tackling climate change. Indeed, ministers regularly billed them as forming the most ambitious programme in the planet.
Snag is the targets have not been met. They have been missed repeatedly.
Ministers insist that good progress is being made; but there appears to have been a feeling that the issue was somewhat swamped within the rural affairs remit, where it previously resided.
Climate change has now been prised out of that area of government - and handed to Roseanna Cunningham along with her environment brief.
Fergus Ewing, another cabinet newcomer, takes charge of the rural economy, including another priority pledge: to make broadband reach universal.