Willie Rennie plastic pigs raise £250 for farm charity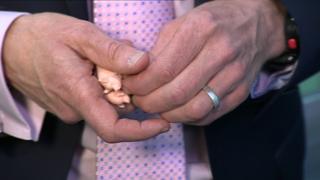 Two plastic pigs which Scottish Liberal Democrat leader Willie Rennie was seen clutching on the night of his election win have helped raise £250 for charity.
The Scottish Sun pledged the cash to Gorgie City Farm after holding a competition to name the miniature pair.
The Edinburgh venue was the scene of a campaign howler in which Mr Rennie was speaking on camera with amorous pigs in the background.
The Sun's winner was Agnes Martin who picked the names Kama and Sutra.
She told the newspaper: "I don't think anyone will forget those pigs. I won't, as I'll be keeping them on my mantelpiece."
At last week's Holyrood election, Mr Rennie won the Fife North East seat, beating SNP candidate Roderick Campbell by 3,465 votes.
Ahead of taking to the stage at the count in Glenrothes, the politician was handed the two pigs by BBC reporter Ken Macdonald.
Mr Rennie later thanked the journalist for the gift which ended up raising money for the city farm which is under threat of closure.