MP Natalie McGarry apologises over 'holocaust denier' tweet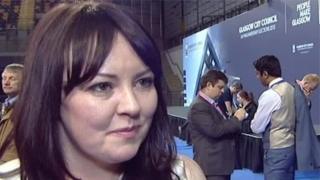 An MP has apologised and agreed to pay out £10,000 over offensive remarks she made on Twitter.
Earlier this year, Natalie McGarry accused Scotland in Union director Alastair Cameron of being an "internet troll" and an "outed holocaust denier".
Mr Cameron started legal action over the tweets, but has now accepted an apology from Ms McGarry, who will make payments to three charities.
The apology was to be pinned to the MP's Twitter profile for two weeks.
But after posting the apology, Ms McGarry made her profile private, meaning only those who are already following her can see it.
In response, Mr Cameron tweeted: "Dear @NatalieMcgarry, point of apology being pinned is so ppl can see it. Please sort, or regrettably there may be further from my solicitor".
Ms McGarry subsequently made her account public again, but has apparently blocked several Twitter users from viewing it - including BBC Scotland.
Ms McGarry withdrew from the SNP whip at Westminster in November after the Women for Independence group called in police to investigate alleged financial discrepancies in its accounts.
The Glasgow East MP's apology said: "On 6th March I tweeted that the Scotland in Union was headed by an "internet troll" and an "outed holocaust denier".
"I made a serious mistake and accept there is no truth to those statements and apologise unreservedly to Mr Cameron for any distress caused."
---
Where will the charitable donation go?
Combat Stress
Aegis Trust
Lumos
---
Scotland in Union was set up by Mr Cameron to put forward the case for Scotland to remain in the UK.
It said that Combat Stress, Aegis Trust and Lumos - which was established by Harry Potter author JK Rowling - would all receive a share of the funds Mr Cameron will receive from Ms McGarry, after legal costs.
It is understood Ms McGarry has agreed to pay out a total of £10,000.
Speaking before Ms McGarry made her Twitter account private, Mr Cameron said: "I am pleased to accept this apology from Ms McGarry and draw a line under this unfortunate incident.
"The payment Ms McGarry has agreed to make will go to three excellent charities which I have been involved with and I am delighted that some good will now come of this.
"Politics in Scotland invokes passion and strong opinion on all sides, particularly on social media. I hope this serves as a reminder to us all that we need decency and respect in our debate, whether we agree with people or not.
"I look forward to continue making the positive case for Scotland in the UK."
Ms McGarry was also involved in another high-profile online spat in January, when she accused Ms Rowling of supporting "abusive misogynist trolls" on Twitter.
'Misguided inference'
She claimed the Harry Potter author had "tweeted support" for a Twitter user who goes by the pseudonym Brian Spanner.
Ms Rowling strongly denied the claim and demanded an apology.
Ms McGarry later apologised for "any misguided inference" that Ms Rowling supports misogyny or abuse.
But she subsequently retweeted an image that had been altered to wrongly suggest Ms Rowling had responded "you're a good man" to an abusive tweet sent by Brian Spanner.
Ms McGarry also made headlines in February when she was detained by security forces in Turkey after getting out her mobile phone at a checkpoint in order to "record the sound of bombs from the Turkish forces falling on the Kurdish area of Sur in Diyarbakir".