Holyrood campaigns focus on mental health and broadband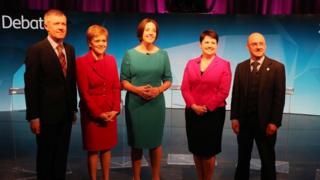 Scotland's political leaders continued their Holyrood election campaigns across the country by outlining a series of manifesto pledges.
Representatives from the main parties underlined policies on mental health, broadband provision and rural communities during a series of events ranging from Hawick to the Cairngorms.
The five Holyrood party leaders are also due to take part in an LGBTI hustings in Edinburgh organised by groups including Stonewall Scotland and the Equality Network.
---
Nicola Sturgeon, SNP
SNP leader Nicola Sturgeon elaborated on her party's pledge to deliver superfast broadband to every home and business in Scotland by the end of the next parliament.
During a campaign visit to a community hub in Hawick, Ms Sturgeon said the government was already on track to deliver basic digital connectivity to 95% of premises by the end of 2017.
She said: "Our economy depends on fast, reliable and future proofed digital infrastructure."
"Where we cannot simply lay cables we will use innovative methods, like mobile masts, satellite technology and community owner broadband to ensure that no one in our rural communities misses out."
---
Willie Rennie, Lib Dems
Scottish Lib Dem leader Willie Rennie took a walk in the park with some "therapets" from Canine Concern Scotland while outlining his party's mental health plans.
The charity uses trained animals to help support people with mental health issues and other conditions.
Mr Rennie said: "Charities like Canine Concern Scotland do fantastic work supporting people struggling with mental ill health, but we need to see a step change in the way that mental health is treated in Scotland.
"Doctors and nurses working in our NHS are doing fantastic work but they are not getting the help they need from the government. That needs to change. Liberal Democrats will ensure that improving mental health services is a priority for our NHS."
---
Ruth Davidson, Conservatives
Ruth Davidson launched the Scottish Conservatives plan for rural communities during a campaign event in the Cairngorm mountains.
The party leader called for an independent inquiry into the delays in EU payments being handed out to Scottish farmers.
She said: "Our producers deserve better than SNP mismanagement, which is why it's essential the CAP payments fiasco is properly investigated.
"This is not just a case of finger pointing, it's about looking ahead to ensure these mistakes are not repeated."
---
Ian Murray, Labour
Labour MP Ian Murray described the SNP's position on tax as "utterly hypocritical" during a campaign visit to an entrepreneurial support hub in Edinburgh.
The shadow secretary of state for Scotland said the SNP and Conservatives were the only parties which opposed raising taxes, which he said was causing spending cuts.
He said: "Unlike the SNP, we will never use the Scottish Parliament as a conveyor belt for Tory cuts. Only the Tories and the SNP stand against the wealthiest paying their fair share to stop the cuts."
Mr Murray also criticised the "incredibly poor" implementation of the Scottish government's plans to assign a "named person" to every child aged under 18, calling for a review.