Holyrood's party leaders make policy pledges in visits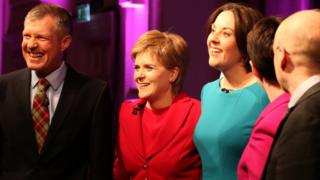 Scotland's political leaders have been out on the campaign trail ahead of May's Scottish elections.
The politicians focused on education, housing and tax during a series of campaign visits, and also offered some reaction to Tuesday's leaders debate on STV.
---
Nicola Sturgeon, SNP
SNP leader Nicola Sturgeon set out plans to ensure 50,000 new houses are built over the next five years.
Speaking during a visit to the University Cafe in Glasgow, Ms Sturgeon said this would help grow the Scottish economy and support jobs.
She said: "The SNP in government already has a strong track record on housing, but we will never rest on our laurels and are determined to go even further."
After the later stages of the STV debate were dominated by the question of Scottish independence, Ms Sturgeon also said she would not rule out calling another referendum during the next parliament - but said the question would only be re-visited if there was public demand for it.
---
Kezia Dugdale, Labour
Campaigning at a nursery in Rutherglen, Scottish Labour leader Kezia Dugdale highlighter her party's pledge to create a "fair start fund" to give extra funding to pupils from deprived backgrounds.
Following Tuesday's leaders debate, Ms Dugdale also hit out at the SNP and Conservatives for being too close together in their tax policies, with both parties opposing a 50p top rate of income tax which Labour backs.
She said: "Voters expect the Tories to argue against those at the top paying more, but what people won't understand is Nicola Sturgeon making the same case when she supported higher taxes just a few days ago.
"The new powers of the Scottish Parliament mean we can make different choices from the Tories so we can end austerity. Labour will use the powers."
---
Ruth Davidson, Conservatives
Scottish Conservative leader Ruth Davidson met with parents concerned about the Scottish government's "named person" plans.
During a campaign event in Abernethy in Perthshire, Ms Davidson hit out at the legislation, under which every person in Scotland will have a named person assigned to them until they turn 18.
Ms Davidson said the scheme, which the government insists will aid in child protection, was "deeply unpopular" and needed to be "scrapped".
She added: "I've no doubt the intentions behind the named person legislation were honourable, but the time has come for the SNP to accept it is wrong. It's not only an unacceptable intrusion into family life, but it spreads resource too thinly."
---
Willie Rennie, Liberal Democrats
Scottish Liberal Democrat leader Willie Rennie challenged other parties to set out how they wound fund investment in education, promoting his plans to add 1p to income tax bands.
Visiting a printing plant in Pollokshaws, Mr Rennie also set out details of a Lib Dem campaign blitz in the wake of the TV debate.
He said: "The other parties have been clear as mud. Their plans are a gamble for education funding.
"The leaflets being printed this morning set out clearly how we would pay for our plans and guarantee the funding we need to make our education system the best again."
---
Patrick Harvie, Scottish Greens
Scottish Green Party co-convenor Patrick Harvie took part in a live question and answer session on social media.
Mr Harvie fielded questions from members of the public over live-streaming app Periscope, a platform which proved problematic for UKIP's David Coburn during the TV debate.
Asked about potentially doing a deal with the SNP, Mr Harvie said he hoped the Greens could some day take part in a coalition government, although only "if the deal is one you can sign up to in good conscience".
He said Scotland needed "a bolder Holyrood, with strong Green voices in there" to "challenge the government to do better".